The 10 Best Options for Birthday Delivery in Sydney
Birthdays is probably one of the most joyous celebrations anyone could ask for. It is the only time where we are entitled to do anything that will make us happy. Whether you want to celebrate it alone, with family, with friends, or with a special someone.
However you want your day to be spent, one thing's for sure, gifts will definitely make it better. If you want to give your invitees a hint on what you want for your birthday, you might want to show them this list for 6 best options for birthday delivery in Sydney.
1.      EDIBLE BLOOMS DELIVERY

At Edible Blooms, you can find the best birthday gift that is multiple in purpose. Not only will you be able to send them a fascinating bouquet of fresh blooms, but these are also edible.
These can also be a perfect birthday giveaway for your guests, especially because they come in various designs, colors, and flavors.
WHAT PEOPLE LIKE
ARTISTIC TOUCH. One of the reasons why Edible Blooms is such a hit in Sydney is because of the creativity and talent shown in each of the company's products. Who would have thought that a bouquet of flowers can actually taste as good as it looks.
AFFORDABLE PRODUCTS. While the shop makes sure that all of their products are kept in the best condition and maintain a high standard.
PRODUCTS
Birthday Gifts – $49 to $200
DELIVERY AND PAYMENT
Visa, AMEX, PayPal,
2.      BOXT

Boxt does not only showcase their high quality products across Sydney but in the entire country of Australia. The shop has a variety of items to choose from which are mostly packaged in hampers or gift boxes.
These ideas can be easily and quickly delivered wherever you are in Sydney so what are you waiting for? Make someone's birthday a special one with these amazing gifts.
WHAT PEOPLE LIKE
EASY TO SELECT. To help you ease your shopping experience, the shop has organized their products accordingly. Some are categorized according to product type, some according to the occasion they are most suited for, and some depends on the recipient whether it is a girl or a boy, an adult or a child.
100% CUSTOMER SATISFACTION. The shop ensures that the quality of products and services that they offer always match or even exceed the expectations of their clients that is why their customers always leave good reviews for their wonderful services.
PRODUCTS
Birthday Gifts – $29 to $300
Get Well Gifts – $12 to $300
DELIVERY AND PAYMENT
AMEX, Visa, MasterCard, PayPal
3.      GIFTS N IDEAS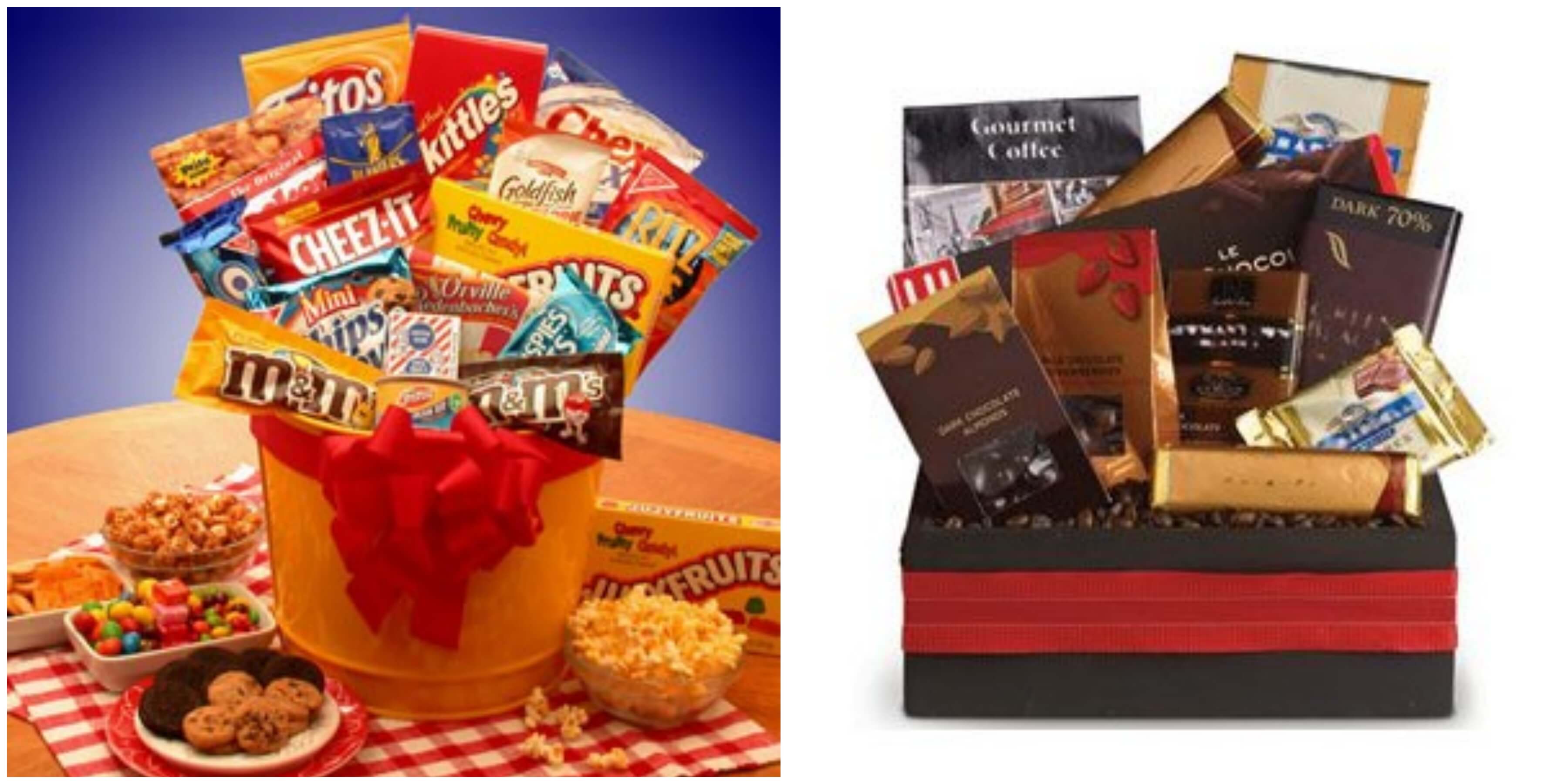 Gifts N Ideas is one of the most popular gift basket providers not only in Sydney but in nearby cities and countries. The shop houses thousands of different gift items and baskets that consist of various products starting from chocolates, balloons, and flowers to premium wines and collectibles. If you want to know more about these items, make sure to regularly visit their website.
WHAT PEOPLE LIKE
VARIETY OF OPTIONS. The shop extends its reach by not merely widening their coverage of delivery area but also by adding more items in their collection so all kinds of gift needs will be addressed by their team.
PRODUCTS
Birthday Gifts – $56 to $400
Chocolate Gifts – $79 to $300
DELIVERY AND PAYMENT
Visa, MasterCard, AMEX, Discover, Diner's
4.      LOLLYLICIOUS

Lollylicious is a family owned and operated business specializing in creating handcrafted chocolate bouquets and hampers creatively arranged for the special people in your life. With these variety of deliciously sweet products, anyone who will receive the gift baskets will definitely have sweet smiles on their faces.
WHAT PEOPLE LIKE
DELICIOUS PRODUCTS. Make your birthday celebration a sweet one if you choose to purchase chocolate and candy hampers from Lollylicious. These products do not only contain delicious goodies but are also presented to beautifully they will pass as a gift.
AFFORDABLE PRICES. No need to spend too much money for gift baskets especially if you purchase yours from Lollylicious because their products are sold at very affordable prices, yet high in quality.
PRODUCTS
Chocolate Bouquets – $65 to $400
Lolly Bouquets – $50 to $300
DELIVERY AND PAYMENT
Visa, AMEX, PayPal, MasterCard, Zip
5.      BOCKERS AND PONY

Bockers and Pony was established in 2004 with the aim of bringing you the finest gift hampers that will totally please you.
The shop never stops creating and trying something new to show their clients that they always go the extra mile when it comes to improving their business. The shop also corporate gift hampers which will be perfect for this coming holiday season.
WHAT PEOPLE LIKE
GREAT SERVICE. There really is nothing to complain about when it comes to the products and services the Bockers and Pony is providing because they always give it their best and the results are shown through their clients' good reviews and positive feedback.
PRODUCTS
Birthday Hampers – $89 to $300
DELIVERY AND PAYMENT
Visa, MasterCard, AMEX, PayPal, Zip
6.      THE HAMPER EMPORIUM

Love spending wine nights with your friends and families? Why not check on the collections of The Hamper Emporium? They have tons of choices of hampers for you— from premium wine and beer to mouth-watering chocolates. These hampers are really perfect to cap off the night.
WHAT PEOPLE LIKE
AFFORDABLE HAMPERS. Who would have thought that a premium class hamper comes at a very affordable price? At The Hamper Emporium, it is always possible to get the best quality hampers at truly fair prices.
FREE DELIVERY. Get your favorite products now arranged in hampers and gourmet baskets and avail the shop's free delivery services across Australia.
PRODUCTS
Chocolate Gifts – $79 to $300
Pamper Gifts – $149 to $300
DELIVERY AND PAYMENT
Visa, MasterCard, PayPal, American Express
7.      CHOCOGRAM
Chocogram specializes in handmade, personalized, premium chocolates that are perfect for gifts and souvenirs. The goal of Chocogram is to provide joy and happiness to whoever receives their product and they aim to paint chocolate smileys to them that is why they always go the extra mile when creating these products.
WHAT PEOPLE LIKE
CHOCOLATES FOR ALL OCCASIONS. Whether you are sending chocolate gifts for a birthday celebration, mothers' day, Valentine's Day, Christmas, etc., Chocogram can always provide you with the best kind they have in their collection.
GREAT CUSTOMER SERVICE. Should you have any questions and concerns regarding your order? Or do you need a professional help in choosing the right chocolate to send? You can always count on to reliable customer service that Chocogram has.
PRODUCTS
Chocolate Boxes – $26 to $100
Chocolate Gift Hampers – $24 to $100
DELIVERY AND PAYMENT
Visa, MasterCard, AMEX
8.      CASA DEL DESSERTS

Casa Del Cakes has been in service for 29 years. they offer the best desserts in Sydney!
Their factory wholesales to restaurants, cafes, hotels, schools, caterers, and they are even open to the public. They always use the highest quality and freshest ingredients in their handmade products.
WHAT PEOPLE LIKE
CUSTOM CAKES FOR ANY OCCASION.  The store offers their customers to curate their own birthday cakes, custom design cakes, and kid-friendly cakes.
PRODUCTS
8" Brazilian Tango – gelato cake – $63.00
Nutella Crescent – box of 12 – $30.00
Fresh Mint Choc Chip Gelato – from $14.00
Continental with Strawberries – $54.00
DELIVERY AND PAYMENT
Visa, MasterCard, PayPal
9.      CAKES2U

Cakes 2 U is an online cake shop that offers a large scale of cakes and cupcakes. These pastries may be in typical designs or exotic flavors. They also come in different sizes. Some have novelty designs, some come in simple layout but flavorful taste. Whatever cake need you may have, Cakes 2 U promises to always provide you with the best one.
WHAT PEOPLE LIKE
ALLERGEN CAKES. Some cake ingredients may be delicious but could also cause allergies to whoever eats it that is why Cakes 2 U is extra careful about this. On their website you will see a list of some allergen-free cake products that are safe and equally delicious.
PRODUCTS
Dessert Cakes
Cheesecakes
Fruit Cakes
DELIVERY AND PAYMENT
The shop delivers from Monday to Friday, from 8AM-3PM and on Saturdays, 7AM-12NN.
10.      AIMEE PROVENCE HIGH TEA & HAMPERS

Aimee Provence High Tea & Hampers promises deliciousness in a box with their luxury gourmet hampers. They have birthday hampers, father's day hampers, as well as a vegan and gluten-free hamper.
WHAT PEOPLE LIKE
VARIOUS PRODUCTS. Deliver a package to someone in Melbourne a luxury gift hamper and they'll enjoy a selection of Aimee Provence favourites that's as special as they are. Choose from birthday hampers, housewarming hampers and an entire range of gifts to say thank you.
PRODUCTS
Luxe Hamper
Birthday Hamper
DELIVERY AND PAYMENT
Enquire for payment options