The 6 Best Options for Cupcake Delivery in Dublin
Attending an impromptu party and does not have the luxury of time to buy or prepare a gift? Why not just have them delivered?
In Dublin, there are lots of shops, specifically bake shops that offer to deliver cupcakes anywhere in the area.
We searched for some of the best ones and listed them below.
Note: Due to the current pandemic outbreak, we've noted the relevant service changes for some of the shops listed below. Most stores are still accepting online or phone orders as well as deliveries.
1.      JOHNNIE CUPCAKES DELIVERY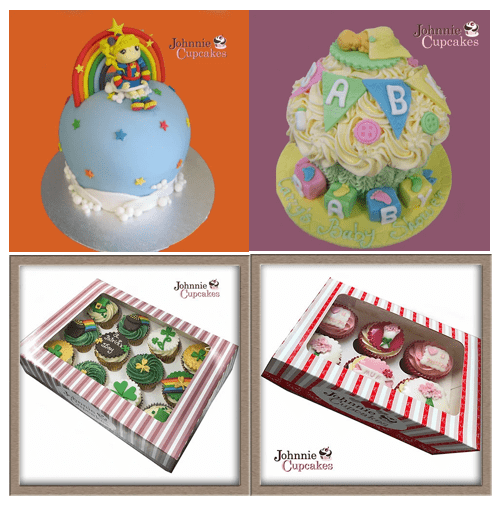 Johnnie Cupcakes Delivery started its humble beginnings as a company that sells their products to farmers markets and through their skills and talent in creating delectable cupcakes, they were able to establish their name in the business and eventually expanded their business.
Today, they have over 85 people with 18 shops across the U.K. and Ireland, all serving freshly baked cakes and cupcakes for all occasions and events.
WHAT PEOPLE LIKE
WIDE RANGE OF OPTIONS. At Johnnie Cupcakes, you will really never run out of options for delicious baked goods because they create a huge variety of flavors and designs that will fit all types of palettes and preferences.
CREATIVE DESIGNS. Johnnie Cupcakes makes sure that their products look as good as they taste and true enough their cakes and cupcakes are creatively designed for your eyes to feast on.
PRODUCTS
Giant Cupcakes – €45 to €200
Cupcake Box – €15 to €100
DELIVERY AND PAYMENT
AMEX, Apple Pay, Google Pay, Mastercard, Visa
2.      CUPCAKESTORE.IE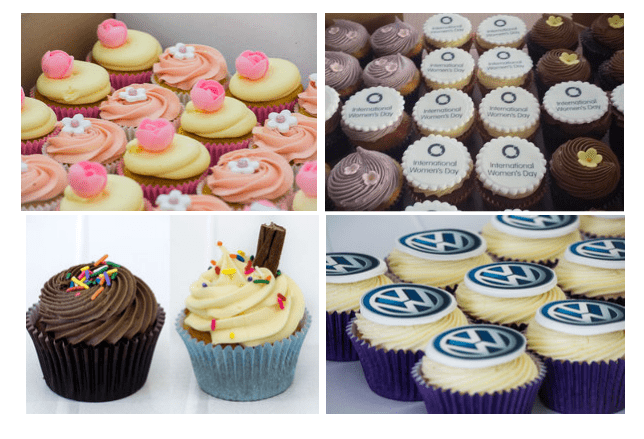 The Cupcake Store started as a small farmer's market stall in 2008 to cater for the growing demand in the market for quality cupcakes. Eventually, the business was able to establish its name in the industry and even won an award for its excellence.
Currently, they have a purpose built bakery in Swords, Co. Dublin run by 4 pastry chefs committed to bringing the entire area of Dublin batches of scrumptious cupcakes every day.
| | |
| --- | --- |
| SPECIALTY | Corporate & Branded Cupcakes |
| SELECTION SIZE | Large |
| STARTING PRICE | Starts at €2.20 |
| DELIVERY FEE | Calculated at checkout |
| WEBSITE | http://cupcakestore.ie/ |
| SOCIAL MEDIA | |
| CONTACT DETAILS | 01-8450192 or 086-170 |
WHAT PEOPLE LIKE
EASY TO ORDER. Placing your orders at The Cupcake Store is a piece of cake. You can do it through phone, email, or directly through their website.
VARIETY OF PRODUCTS. The Cupcake Store, while named as such, does not limit their collection to cupcakes alone. They can also offer you some brownies, gingerbreads, rice crispies, and a lot more.
PRODUCTS
Premium Cupcakes – €2.20 to €100
DELIVERY AND PAYMENT
Contact shop for more details.
3.      EVE' SCAKES

Eve's Cakes if home to a large variety of cake and cupcake products are always available to cater your needs for all occasions. Their cupcakes come in different flavours and toppings but with the same level of satisfaction for sweetness as a cake.
Not only do these cupcakes taste exceptionally good but they also look stunning, thanks to Eve's Cakes team of incredibly talented and creative bakers and designers.
WHAT PEOPLE LIKE
AFFORDABLE PRODUCTS. Get a hand of the shops delightful cupcakes without having to spend too much because of their truly affordable prices.
CUSTOMIZED CUPCAKES. If you want your cupcake orders to perfectly match your celebration theme, you can always ask Eve's Cakes to customize them for you.
PRODUCTS
Birthday Cupcakes – €3 to €10
Wedding Cupcakes – €3 to €10
DELIVERY AND PAYMENT
Contact shop for more details.
4.      A PIECE OF CAKE

While A Piece of Cake primarily specialize in wedding cakes, they still never let their clients down and make sure to offer them a huge selection of delicious baked goods as tasty as their specialty and that's their cupcakes.
These cupcakes also vary in type and flavor. They offer wedding cupcakes, name cupcakes, rose cupcakes, flower cupcakes, dice cupcakes, and a whole lot more.
| | |
| --- | --- |
| SPECIALTY | Wedding cakes and cupcakes |
| SELECTION SIZE | Large |
| STARTING PRICE | Contact the shop for the price list |
| DELIVERY FEE | Calculated at checkout |
| WEBSITE | http://www.apieceofcake.ie/ |
| SOCIAL MEDIA | FB:facebook.com/APieceOfCakeie-102069976554266/ |
| CONTACT DETAILS |  086 8521870 |
WHAT PEOPLE LIKE
OPEN 7 DAYS A WEEK. Whenever you feel like craving for a cupcake, may it be a Monday morning or a Friday night, they promise to deliver your favorite cupcake in just a snap.
PRODUCTS
Wedding Cupcakes
Rose Cupcakes
Name Cupcakes
Flower Cupcakes
DELIVERY AND PAYMENT
Contact shop for more details.
5.      THE CUPCAKE BLOKE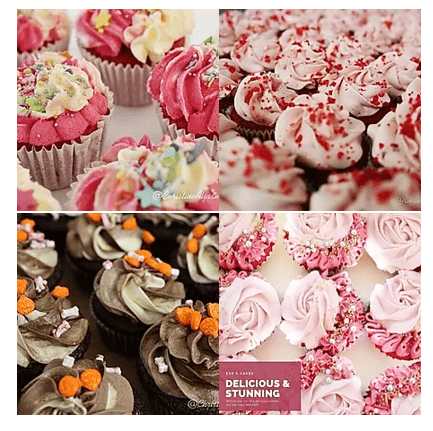 The Cupcake bloke is owned and run by Graham, a baker highly passionate and committed to making delicious cupcakes that will not only fill your stomachs but your hearts as well. He specialises in the creation of Cupcakes and bakes, with an emphasis on making each and every one Funky, Fresh & Fabulous.
You can buy in retail from his market stall on Coppinger Row every Thursday, Friday and Saturday and you can also avail his service to provide cupcakes for your events.
WHAT PEOPLE LIKE
CREATIVELY DESIGNED CUPCAKES. The Cupcake Bloke showcases not only his skills in baking but also his artistic sides by designing their cupcakes so creatively. His cupcake designs and toppings vary depending on the occasion or current trends.
PRODUCTS
DELIVERY AND PAYMENT
Contact shop for more details.
6.      OUR CUPCAKERY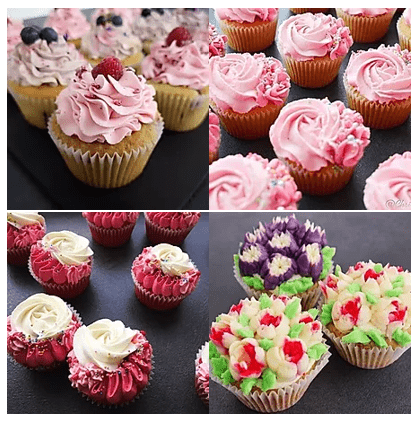 Our Cupcakery specializes in a wide range of baked goods selection. These sweet treats are not only good-tasting but the team has also exerted their effort to turn them into a very presentable food product.
Their cupcakes are designed in different manners that will not only please your stomach but your eyes as well. You can order these delicious cupcakes for your upcoming events and parties.
WHAT PEOPLE LIKE
BEAUTIFUL PRESENTATION. While the shop focuses well on the quality and taste of their cupcakes, they also see to it that they have a wonderful presentation or design that will wow their clients.
FOR ALL OCCASIONS. The shop wants to be part of each of their client's journeys. That is why they have prepared cupcakes that will be appropriate for all kinds of occasions and theme of events.
PRODUCTS
Wedding Cupcakes
Kids Cupcakes
DELIVERY AND PAYMENT
Contact shop for more details.
Note: Available Tuesday – Saturday for orders placed in advance only.