The 12 Best Options for Dried Flowers in Melbourne
Creativity never stops, especially in the world of floristry. Who would have thought that a flower far from being fresh can still be able to show such beauty and elegance?
If you want to steer clear from the conventional flower-giving, scroll down to see the flower studios that offer dried flowers in Melbourne.
NOTE: Because of the COVID 19 outbreak, Melbourne has implemented business restrictions whereas some florist shops only take online orders and provide limited delivery service. We've indicated all the relevant policy changes for the stores in our list.
1.      MIMOSA FLOWERS
Mimosa Flowers is a proud local flower studio specialising in lasting floral design using dried and artificial flowers. The studio primarily uses native Australian blooms which they dry and process to create stunning results.
They only source silk and real touch flowers of the highest quality to ensure their flowers exceed their clients' expectations and are authentic down to the tiny details.
| | |
| --- | --- |
| SPECIALTY | Dried flower bouquets |
| SELECTION SIZE | Large |
| STARTING PRICE | Starts at $50 |
| DELIVERY FEE | Calculated at checkout |
| WEBSITE | https://www.mimosaflowers.com.au/ |
| SOCIAL MEDIA | IG:@mimosaflowersmelbourne/ |
| CONTACT DETAILS | |
WHAT PEOPLE LIKE
ELEGANT CREATIONS. The shop always keeps in mind to create something that will bring elegance to the place. That is why it does not matter whether the flower is fresh or dried, if it is natural or artificial, their team will always do their best to make it one of the most stunning flower arrangements that you will ever see in Melbourne.
EXPERT DESIGNERS. The shop would not have a collection of beautiful dried flower arrangements if not for their expert designers who always go the extra mile and pour their hearts and skills in their products.
PRODUCTS
Dried Flowers – $50 to $300
Artificial Flowers – $75 to $300
DELIVERY AND PAYMENT
Contact shop for details.
2.      FEATHER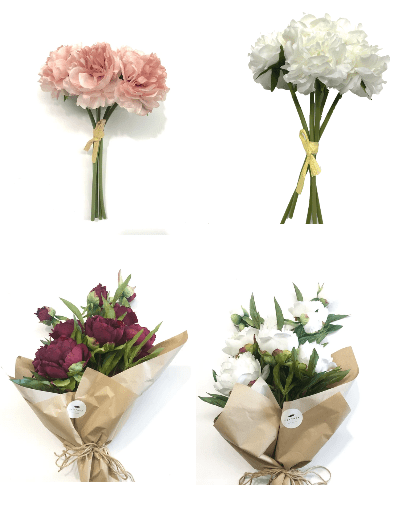 Feather has a very unique way to show their skills in creating a beauty out of dried flowers. The dried flower and grasses that they process somehow elicits an image of a feather which is really amusing.
These dried plants are suited best as tree ornaments or added decoration or accessories to some of your home furniture, or if you are creative enough, you can even add them to your outfit accessory.
WHAT PEOPLE LIKE
UNIQUE STYLE. The shop does not only preserve a dried plant but they turn them into a whole new item that will really amaze you in many ways. These products are originally created by their talented team who always go the extra mile in providing you the best products that you deserve.
PRODUCTS
Flower Bouquets – $4 to $200
Flower Arrangements – $45 to $200
DELIVERY AND PAYMENT
PayPal, Visa, MasterCard, AMEX
3.      GATHER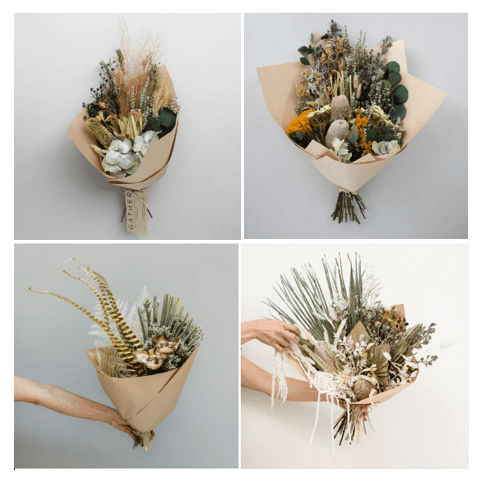 Gather travel all around Australia and work closely with their passionate farmers to ensure their flowers are the best specimens around.  The flower shop makes sure to create uniquely beautiful dried flower arrangements that will be perfect for any occasion and season.
If you want to check out what Gather has in store for you, you may always visit their physical shop and website.
WHAT PEOPLE LIKE
ORIGINAL CREATIONS. All of the products that you will see from the shop's display are all originally conceptualized and created. With their goal of bringing you the best home accessories and decorations, they make sure to always keep up with the trend and make very stunning products.
VALUE FOR MONEY. Gather gives high appreciation to their beloved clients that is why they make sure that you get your money's worth with all the products that they offer.
PRODUCTS
Dried Flower Bouquets – $69 to $200
DELIVERY AND PAYMENT
Visa, MasterCard, PayPal, Afterpay
NOTE: This shop only accepts online orders and they also advise the customers to reserve an order 3-4 days before the specified delivery schedule due to the pandemic that causes an unprecedented increase in freight cargo.
4.      ETSY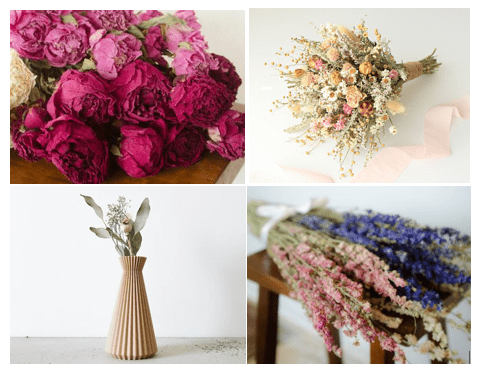 Etsy is known for their elegant and premium collection of gift items which includes a recreation from dried flowers. This product of their really possess elegance and beauty as they are preserved so carefully and redesign so beautifully that you would not think that they are made of withered flowers.
WHAT PEOPLE LIKE
100% CUSTOMER SATISFACTION. Etsy is one of the top rated online shops in Australia and this is primarily because of their high class products and excellent customer service. Their customers never fail to give them positive feedback to show their great appreciation of the shop's effort to meet their expectations.
AFFORDABLE PRICES. You do not have to spend a huge amount of money just to get yourself an elegant flower product like what Etsy offers because their dried flowers are actually sold at very reasonable prices.
PRODUCTS
Dried Flowers – $10 to $200
DELIVERY AND PAYMENT
Contact shop for details.
5.      FLEURI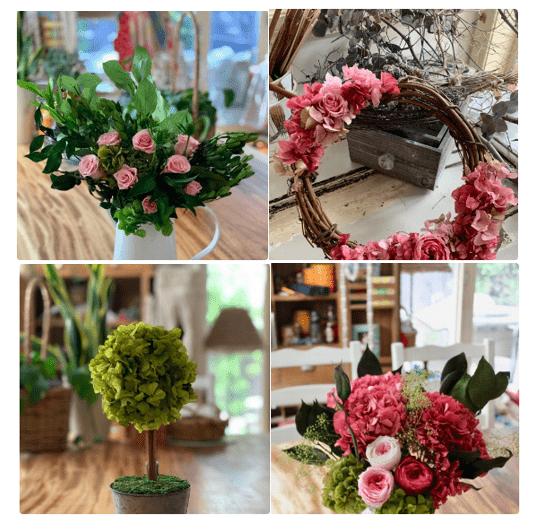 Before processing the flowers to become the preserved kind, Fleuri makes sure to pick only the finest ones so they'd have the most outstanding preserved flowers in the marketplace and that exactly what sets them apart. From the process until the delivery, the shop always sees to it that they provide excellence and elegance.
WHAT PEOPLE LIKE
100% CUSTOMER SERVICE. Fleuri has gained a lot of positive feedback and good reviews from their previous clients showing how satisfied they were with their products and services.
HIGH QUALITY PRODUCTS. One of the priorities of the shop is making sure that all of the products coming in and out of their shop is always on their best quality so their clients will receive their orders with smiles on their faces.
PRODUCTS
Preserved Flowers – $33 to $300
DELIVERY AND PAYMENT
Contact shop for more details.
NOTE: You can still make orders online, however, their express post delivery option is not available as of the moment so they highly encourage the customers to reserve an order a few days before your desired delivery time.
6.      HOUSE OF DRIED FLOWERS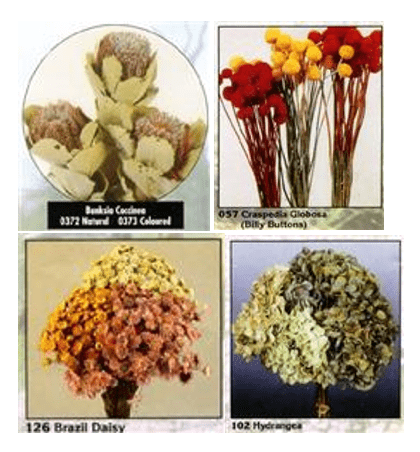 What more can you expect of a shop named House of Dried Flowers? Of course, they house thousands of different dried and everlasting flowers that vary in kind, size, shape, and color but one thing is for sure, they are all equally beautiful and brilliantly made.
The shop shows how the natural beauty of flowers, when combined with their undoubtedly amazing skills, can create an even more stunning product that you will certainly love.
| | |
| --- | --- |
| SPECIALTY | Dried flowers |
| SELECTION SIZE | Large |
| STARTING PRICE | Contact the shop for the price list |
| DELIVERY FEE | Calculated at checkout |
| WEBSITE | http://houseofdriedflowers.com.au/ |
| SOCIAL MEDIA | |
| CONTACT DETAILS | 0407 804 832 |
WHAT PEOPLE LIKE
CUSTOM MADE. Do you have a specific type of flower that you want to be used for the arrangements? Let the team know and they will happily create the flower arrangements as you desire.
PRODUCTS
DELIVERY AND PAYMENT
Contact shop for details.
7.      MILLA ROSE

Established in 2020, Milla Rose is a Melbourne-based company specializing in preserved and dried flowers.
They offer a variety of dried flower arrangements as well as flower domes, vases and pots.
WHAT PEOPLE LIKE
MADE TO LAST. Milla Rose specializes in preserved and dried flowers that are meant to last for years as compared to fresh blooms that only last for 7-10 days.
CUSTOM ARRANGEMENTS. If you don't find the perfect arrangement for you, they are also willing to collaborate with their customers and create custom arrangements.
PRODUCTS
Preserved & Dried Flower Bouquet – $60

Pink Flower Dome – $70

Purple Table Arrangement – $130
DELIVERY AND PAYMENT
Payment may be made through any of the following: Apple Pay, Google Pay, PayPal, Mastercard, and Visa. Delivery fee varies depending on the location but they offer free shipping for orders worth more than $150, and same day delivery is possible within Melbourne, Australia.
8.      THE PALMIER

The Palmier is made out of the desire of Simone, the owner of the shop, to start a business that revolves around things that she loves which are the sun, ocean, outdoors and uniqueness.
It has always been and always will be her pleasure to provide her clients preserved flowers of her own creation and of the best quality. 
WHAT PEOPLE LIKE
HIGH QUALITY PRODUCTS –

All of the products that the shop offers are original, handmade and guaranteed to be long lasting.

FLOWERS FOR ALL OCCASION – The preserved flowers are created to fit any occasion there is.
PRODUCTS
Bay of Fire – everlasting dried floral bouquet – $120.00

Angel – everlasting dried arrangement in vase – $165.00

BAILEY – everlasting palmy wall hanging – $155.00
DELIVERY AND PAYMENT
Contact shop for more details about shipping. Payment options include AmEx, Apple Pay. Google Play, MasterCard, Paypal, Shop Pay and VISA.
9.      FOWLERS FLOWERS

In 2010, Fowlers Flowers opened its doors in leafy Clifton hill as a small local florist, born from the garden of Mixed Business Cafe. With a focus on sustainable practise, seasonal blooms and a natural, contemporary aesthetic, the shop quickly blossomed into a warm and approachable place to indulge in all things floral.
WHAT PEOPLE LIKE
FOR ANY OCCASSION. From a hand tied posy for your loved one, a bespoke wedding or an impressive, personalised event, they will be ready for your request.
PRODUCTS
Pastel
Thinking of you
Australian native
DELIVERY AND PAYMENT
Contact shop for more details about shipping and payment options.
10.      AMAZING GRAZE FLOWERS

With your booking in Amazing Graze Flowers, you'll receive a 1 hour free consultation with Angel from Amazing Graze Flowers or one of her qualified staff/stylists. During this detailed consultation, they will discuss detailed florals, decorative requirements and all items required for your wedding day. By then, you should at least have some ideas, pictures, and color swatches you may have that you can share with the Amazing Graze Flowers team.
WHAT PEOPLE LIKE
SAME DAY DELIVERY. Order before 12 pm noon and THEY can deliver your flowers on the same day. FREE delivery within 6km of our Essendon store.
PREMIUM FLORIST. Fresh flowers selected from premium growers around Australia. Beautiful arrangements created by experienced florists.
PRODUCTS
Daily Bouquets – $49.95
Native Flowers Bouquet – $49.95
Sunflowers and Roses – $150
DELIVERY AND PAYMENT
Amex, Apple Pay, Mastercard, PayPal, Shopify, Visa
11.      THE FLOWER CLUB

The Flower Club is your local flower shop in Melbourne. They specialize in products that are fresh. Their products flowers, plants vases, and even artificial ones.
Their products are perfect for every occasion such as Anniversary, Birthday, Funeral, Christmas, Mother's Day, Valentine's Day, Wedding, New baby, Get well soon, Sympathy, Congratulations and Thank you and even without an occasion you would not go wrong with The Flower Club.
WHAT PEOPLE LIKE
ELEGANT CREATIONS. Their cakes are made by their team with great creativity when making them.
VALUE FOR MONEY. Flower Club gives high regard for their customers as they tend to really please
PRODUCTS
Angel Wreath – $149
Amber Awe – $149
Belles Fleur – $244.99
DELIVERY AND PAYMENT
Deliveries of products can be made across Ivanhoe East, Bellfield, Heidelberg, Heidelberg West, Bulleen, Rosanna, Northcote, Thornbury, Ivanhoe, Eaglemont and other nearby suburbs across Melbourne. Payment can be made through MasterCard, American Express, Visa, PayPal and Comodo Secure methods.
12.      FOREVER FLOWERING

Forever Flowering is a florist nestled in Australia. The flower arrangements that they provide may be artificial, but they assure you that they are of the best quality.
Moreover, their blooms are non toxic and are easy to maintain.They are long lasting and are suited to any budget and occasion.
SPECIALTY
Artificial Flowers
SELECTION SIZE
Large
STARTING PRICE
Starts at $39
DELIVERY FEE
Free shipping for orders over $100
WEBSITE
https://foreverflowering.com.au/
SOCIAL MEDIA
IG: @forever_flowering
Twitter: @foreverflowerin
CONTACT DETAILS
0458 108 109
[email protected]
WHAT PEOPLE LIKE
HIGH QUALITY PRODUCTS. They make sure to utilize the highest quality of artificial flowers in crafting their bouquets,
FLOWERS FOR ALL OCCASIONS. Their flowers are perfect for weddings, birthdays, engagements and any occasion there is.
PRODUCTS
Flamingo – $257
Kerry – $287
Whitney – $247
DELIVERY AND PAYMENT
Contact shop for more details.