The 11 Best Options for Flower Delivery in Budapest
Do you need some festive flowers for Christmas? Or maybe you're looking for romantic bouquets for your anniversary? Your search is over! Here at Flower Delivery Reviews, we've scoured the web to find the best options for flower delivery in Budapest all for your convenience. Check out these top Budapest florists with professionally handcrafted flower arrangements for all occasions.
Note: Because of the current pandemic and Global Level 4 Health Advisory in Hungary, some of the shops we've listed here have implemented service limitations and some have even temporarily suspended operations. Where applicable, we've noted the policy or service changes for the shops below.
1. ARIOSO

(Source)
| | |
| --- | --- |
| BEST FOR | Deluxe bouquets and flower boxes with luxury items |
| SELECTION SIZE | Large |
| PRICE RANGE | 6.000 HUF – 62.000 HUF |
| DELIVERY FEE | Calculated at checkout |
| WEBSITE | www.arioso.hu |
| INSTAGRAM | @ariosobudapest |
| CONTACT | +36 1 266 3555 | [email protected] |
| PAYMENT | Credit cards, PayPal |
ARIOSO provides all things bright and happy to spruce up your home, from luxurious bouquets to flower boxes. Of course, they also have wellness gifts, hampers and gourmet products for all your gifting needs. You can add a gift item to place on their elegant flower box like fragrance or luxurious bath items to really impress your loved one. Order by 4pm for same day flower delivery in Budapest.
Note: ARIOSO Budapest's webshop and delivery services will be in operation in accordance to the regulations currently in force.
2.     Escada Virágküldés

(Source)
| | |
| --- | --- |
| BEST FOR | Vibrant, romantic bouquets |
| SELECTION SIZE | Large |
| PRICE RANGE | 6.820 HUF – 21.230 HUF |
| DELIVERY FEE | 2.500 HUF |
| WEBSITE | www.escadaviragkuldes.hu |
| INSTAGRAM |   |
| CONTACT | +36 30 933 9570 / +36 30 863 2297 |
| PAYMENT | Mastercard, Maestro, American Express, Visa, Visa Electron, PayPal, MasterPass, otpbank |
Escada provides flower delivery all over Hungary, including Budapest. Deliveries in Budapest and in major cities can be made in 4 hours, and in 10 hours for other cities, towns and villages. They have bouquets and flower arrangements in bright and bold colours. Romantic rose bouquets are their bestsellers, but they also have modern arrangements for other occasions, including name day.
3.     flowerMe

(Source)
| | |
| --- | --- |
| BEST FOR | Simple, eco-friendly bouquets; Flower subscription |
| SELECTION SIZE | Small |
| PRICE RANGE | From 6,500 HUF |
| DELIVERY FEE | Free |
| WEBSITE | www.flowerme.hu |
| INSTAGRAM | @flowerme_bouquets |
| CONTACT | +36304857769 | [email protected] |
| PAYMENT | Credit or debit cards via PayPal, bank transfer |
flowerMe is short for "Flowers for Me." The flowers they use are seasonal, fresh and carefully selected twice a week, sometimes daily, from local markets.  These flowers will be used to create genuine, fresh designs every week. This is part of their advocacy of reducing waste. For this reason, flowerMe bouquets are wrapped in recyclable material.
Their designs are simple, unpretentious and genuine to allow the beauty of the blooms to shine. They take orders every day by noon for same-day delivery by bike.
4.     Endorphine
(Source)
| | |
| --- | --- |
| BEST FOR | Fresh flower boxes with macarons |
| SELECTION SIZE | Large |
| PRICE RANGE | 850 HUF – 48.000 HUF |
| DELIVERY FEE | 2.400 HUF |
| WEBSITE | www.endorphine.hu |
| INSTAGRAM | @endorphine.flowers |
| CONTACT | +36 1 614 7851 | [email protected] |
| PAYMENT |   |
For bouquets that are truly sumptuous, Endorphine's floral boxes with macarons fit the bill. They also have acryl boxes for a Paris-chic vibe. You can also find pretty and petite posies if you're on a budget. For people in a rush, the good news is they can provide express flower delivery in Budapest within 3 hours.
5.     Viragneked

(Source)
| | |
| --- | --- |
| BEST FOR | Stylish, flower bouquets |
| SELECTION SIZE | Medium |
| PRICE RANGE | 8.800 HUF – 125.000 HUF |
| DELIVERY FEE | Calculated at checkout |
| WEBSITE | www.viragneked.hu |
| INSTAGRAM | @smuz_viragneked |
| CONTACT | +36 30 954 42 00 |
| PAYMENT | CIB Bank, Mastercard, Maestro, Visa, American Express, PayPal, JCB, giropay, MasterPass |
It can be spring all-year round with flower arrangements from Viragneked. Lush, colourful and stylish are the three words that can describe their floral bunches. You can also find organic, boho-chic floral designs if you dislike the traditional, polished packaging of hand bouquets. In fact, their bestselling bouquets are simply wrapped in brown paper for an unpretentious yet beautiful design.
6. Szirom Virágküldés Budapest

(Source)
| | |
| --- | --- |
| BEST FOR | Delivery of bouquets within 2 hours |
| SELECTION SIZE | Large |
| PRICE RANGE | EUR 35.2 – EUR 213.8 |
| DELIVERY FEE | Calculated at checkout |
| WEBSITE | www.szirom.hu |
| INSTAGRAM |   |
| CONTACT | +36-70-506-4442 | [email protected] |
| PAYMENT | Visa, Mastercard, PayPal, CIB Bank |
If you're looking for a fast flower delivery in Budapest for last-minute orders, Szirom has a specific collection of fast flowers precisely for that need. Their express service ships your order within 2 hours in Budapest. They have over 300 beautiful bouquets, flower baskets and real Ecuadorian roses in their selection for any occasion. For other bouquet options, they have red rose bouquets, colourful bouquets, flower baskets, luxury collection, rose boxes, seasonal bouquets, vase arrangements and graduation bouquets.
7. SzivNet Flower Delivery Service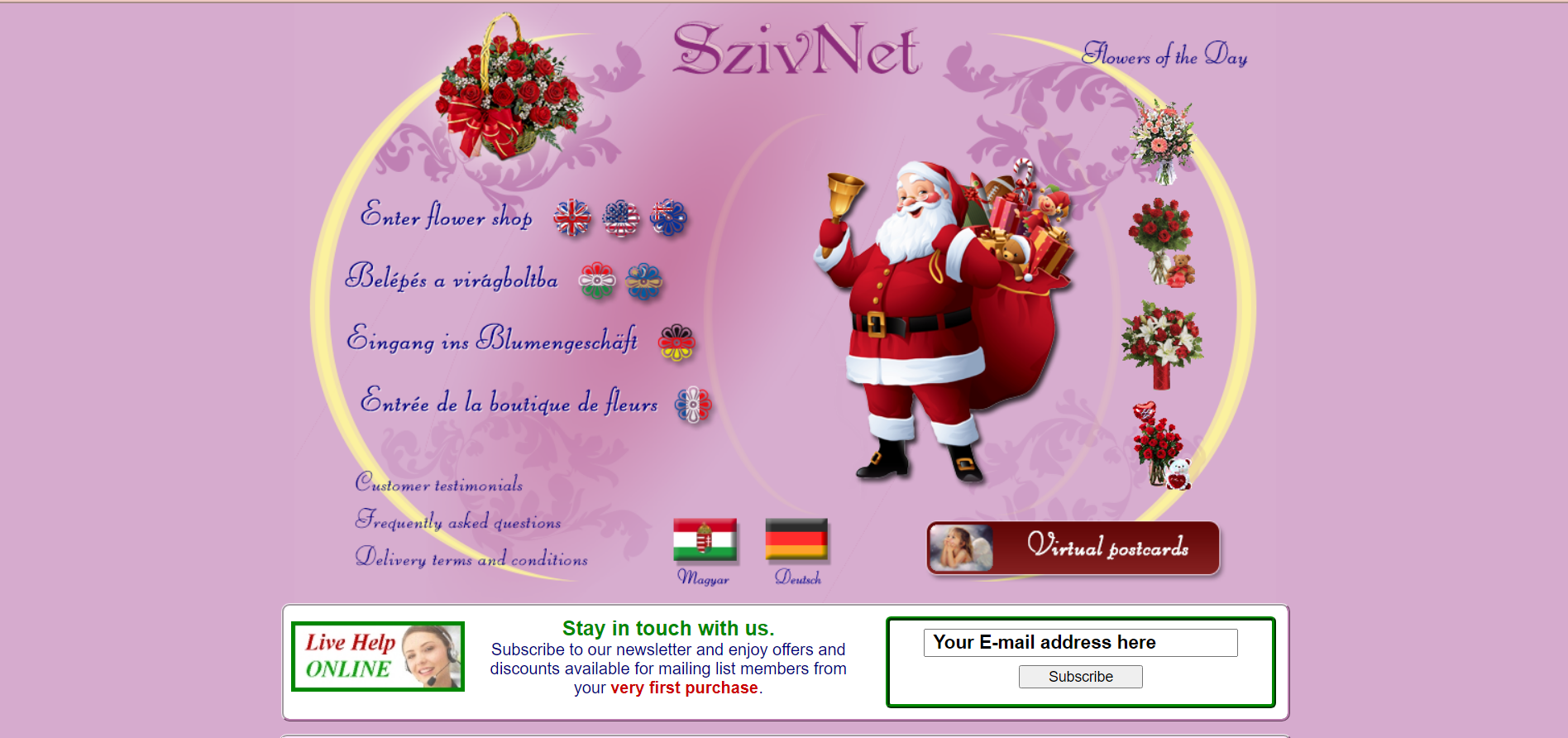 (Source)
| | |
| --- | --- |
| BEST FOR | Great Bouquets |
| SELECTION SIZE | Medium |
| PRICE RANGE | Contact for more details |
| DELIVERY FEE | Calculated at checkout |
| WEBSITE | https: //www.sziv.net/mainpage |
| INSTAGRAM |   |
| CONTACT | +36-20-9883862 |
| PAYMENT | Contact for more details |
Turn to none other than SzivNet Flower Delivery Service is dedicated to helping make you and your loved ones happy with their amazing floral products. Trust them to create a bouquet or centerpiece for any upcoming event you have.
8. Grande Fiore Flower Shop

(Source)
Grande Fiore Flower Shop highlights the fragility and beauty of flowers. They are one of the flower shops that offer a wide range of services.
Whether you need a casual or a wedding bouquet, they got your back. In comparison to other shops, they also offer flower boxes, baskets, car decorations, devotional preparations, wreaths, and knockers.
People in Budapest prefer to buy from them because they do not compromise the quality of the arrangement even though the price is pretty affordable. They also ensure that every arrangement only has the most fresh flowers they have.
A previous buyer mentioned that they would definitely buy again from them since their flowers lasted longer than all the arrangements they have previously bought. Another said that they loved how the flowers they used were very vibrant and eye-catching, perfect for a pop of color inside their house.
9. Dori Legradi Flowers

(Source)
Dori Legradi Flowers has been serving Hungarians since 2019. They can produce both dried and fresh flowers.
If you only want a low maintenance flower, we believe that buying from them is the best option for you. . A reason for this is because of their wide range of this type of flower, they have painted, natural, pampas, and lagurus dried flowers.
In comparison to other shops, we can say how competitive their pricing is. For the price of their products, you can already get an amazing arrangement of dried flowers that can last up to months!
We have observed that when it comes to their fresh flowers, their style is very incomparable. Even though the fill-up form on their website is not yet an official order, you will still receive feedback via email.
A unique thing we saw about them is they offer color palettes for their fresh floral arrangements. With them, you may bring home a combination of 3 colors in your gorgeous bouquets.
10. Annart Virágszalon Budapest

(Source)
BEST FOR
Compositions according to different historical eras
SELECTION SIZE
Small
PRICE RANGE
Starts from 5, 000 FT
DELIVERY FEE
Calculated at checkout
WEBSITE
https://www.annartviragszalon.hu/
INSTAGRAM
@annartviragszalon
CONTACT

[email protected]


+ 36-30-255-9509
PAYMENT
Contact for details
Annart Virágszalon Budapest offers fresh and premium quality cut flowers, including many special varieties, all year round. Their store is renewed seasonally in order to provide inspiration to their customers.
What makes them stand out from other shops is their service where you can order compositions according to different historical eras. Whether it is Baroque, Empire, or Biedermeier, they can make you the arrangement you desire.
Currently, minimal design has become more popular. We think they are great since they can keep up with this trend and can give you the most aesthetically pleasing flowers.
Aside from bouquets, they also offer flowers for different kinds of events such as weddings and funerals.
Unfortunately, they do not offer customized flower bouquets. But nonetheless, you will still be able to choose from their unique flower bouquets and boxes.
11. Nusy Flower & Home

Nusy Flowers & Home is a florist shop that provides classic flower arrangements specially personalized for clients. Built on the owner's newfound creative side to flower arrangement, each bouquet brings to life both the ideas of the florist and the client.
Their online shop features a wide selection of both plants and flowers that is perfect for numerous occasions. Though there is a limited selection and lacking forms to be filled when it comes to bouquet customization.
Clients may also need to register on their website before they can start shopping at their store online which could be quite a hassle since they need to wait for an email notification before being able to readily order.
Their website is informative and even has a blog for visitors to explore a more creative approach to purchasing floral arrangements. Furthermore, their website is in Hungarian which better makes it accessible for the locals.
Overall, clients commend them for their cozy shop and welcoming customer interaction and service that sets them at ease when selecting the flower arrangement for them.