The 16 Best Options for Flower Delivery in Greece
Today we are gonna go over our list of the best options for flower delivery in all of Greece.
There are hundreds of florists that deliver in Greece. Don't worry we crunched the numbers. 16 hours, 4 coffees and a rather bad migraine latter, our list was born!
Are you ready to get started with our list of the top flower delivery options in Greece? Let's get going…
Note: Due to the current pandemic crisis, most stores in our list have implemented changes on their services. We've noted the necessary restrictions on our list below.
1. Greek Blooms

(Source)
| | |
| --- | --- |
| BEST FOR | Beautiful and budget-friendly modern hand bouquets |
| SELECTION SIZE | Medium |
| PRICE RANGE | Starts at €54.00 |
| DELIVERY FEE | Free Same Day Delivery |
| WEBSITE | https://www.greekblooms.com/ |
| CONTACT | Visit their website |
| PAYMENT | Visa, Mastercard |
Greek Blooms' exceptional flower delivery service is matched by the top-notch quality of their floral products. Their online store showcases a meticulously curated collection of hand bouquets, flower stands and table arrangements that are not only modern and highly Instagrammable, but they also look better in real life!
Their biggest selling point to customers is their 90-minute guaranteed free flower delivery. So if you need last-minute gifts for an event or if you foolishly forgot your anniversary, then their express flower delivery will save the day with a professionally handcrafted bouquet filled with farm-fresh flowers.
2. Betty Flowers Santorini
(Source)
Betty Flowers is a full-service floral event design studio and their florists have over 20 years of experience in flower design for weddings, corporate events, social parties, and other social celebrations. The shop provides everything from bouquets, boutonnieres, corsages, hairpieces and personal flowers, ceremony structures (like candles, door wreaths, arches) and reception centerpieces.
3. Flower-Design.Gr

(Source)
The flower-design.gr is a flower shop in Athens which offers quality and original flower arrangements for free delivery. Sourcing their products from the Netherlands, they sell flowers for him/her, weddings, occasions, and for residential and commercial spaces.
4. Anthemion Flowers

(Source)
Would you like to have an eye-stealing flower arrangement? For a glamorous gift, consider ordering tall flower arrangements from Anthemion Flowers. They can also provide same day delivery upon request.
5. Beautyflower

(Source)
| | |
| --- | --- |
| BEST FOR | Handtied bouquets |
| PRICE RANGE | From €31 |
| WEBSITE | https://www.e-flowers.gr/ |
| CONTACT | +30 21 0252 2456 |
| PAYMENT | Visa, Mastercard, PayPal |
With a large selection of handtied bouquets, Beautyflower's online shop lets you order flowers and plants for delivery in Athens. If you're unsure which is the best arrangement for a particular occasion, check out the shop's "Essentials" collection which contains flower arrangements that are compatible with all kinds of celebration.
6. Milva Flowers

(Source)
| | |
| --- | --- |
| BEST FOR | Extravagant flower arrangements |
| PRICE RANGE | €34,87 – €4 004, 00 |
| WEBSITE | http://www.milvaflowers.gr/ |
| CONTACT | +30 261 034 6281 |
| PAYMENT | Visa, Mastercard, Amex, Diners, PayPal |
If you want flower arrangements that match the magnitude of your emotions, consider ordering a basket of 1,001 roses from Milva Flowers! The shop is also ready to delivery six days a week, so you can conveniently place your order and make your requests anytime you desire.
7. Fleria S.A.

(Source)
We all know that flower arrangement takes a certain level of artistry, but Fleria S.A. takes it to another level with painting vases with creative designs. One of their famous vase collections is the "Hands on Glass" flower set.
8. FlowerShopping

(Source)
FlowersShopping is a professional florist located in the heart of Athens since 1992. The shop uses only the freshest flowers, Greek and exotic imported from abroad, to create flower arrangements that can be customized for any occasion.
Note: Online orders are available and e-shop will still continue to operate.
9. Bosonis Art and Flower

(Source)
| | |
| --- | --- |
| BEST FOR | Flowers for all occasions/events/gardening |
| PRICE RANGE | Contact for prices |
| WEBSITE | https://bosoni.gr |
| CONTACT | +30 26710 25507, +30 26711 02324 | [email protected] |
| PAYMENT | Contact for payment options |
Bosonis art and flower can ship anywhere to Athens, all over Greece or abroad quickly and consistently. Their online shop is currently in development, so you may directly reach out to them via phone call or email for your flower gifting and decorating needs. Their expertise encompasses gardening, decorating and supplying flowers for holidays, events, and other occasions.
10. Manfler

(Source)
Manfler is a florist based on Rethymno, Crete. They don't just decorate your event or occasion with flowers – they create meaningful moments and stories with them. They can also deliver beyond Crete – whether it's Santorini, Athens or beyond Greece.
11. Rosetta Eventi

(Source)
| | |
| --- | --- |
| BEST FOR | Designing luxury flower decorations with a style, elegance and most importantly with attention to detail |
| PRICE RANGE | Contact for prices |
| WEBSITE | http://www.rosetta.gr |
| CONTACT | 210 8971834,  +0030 693 7013852 | [email protected] |
| PAYMENT | Contact for payment options |
Rosetta Eventi began as a Flower Shop in 1990 and has grown into an established Event Flower Designer located in Athens Riviera. Their passion and expertise has enabled them to create fabulous florals for every occasion, and win the trust of their satisfied customers' list. They've provided luxury flower decorations for weddings, events and brand campaigns in Athens and throughout Greece.
12. Sampson Flowers

(Source)
| | |
| --- | --- |
| BEST FOR | Flowers, plants, balloons, preserved flowers, drinks |
| PRICE RANGE | From €20 |
| WEBSITE | www.sampson-flowers.gr |
| CONTACT | [email protected] |
| PAYMENT | Visa, Mastercard, Maestro, Visa Electron, Paypal |
Colorful touches like paintings. Emotions that overwhelm the senses. When nature offers, the uniqueness of flowers is highlighted in combination with our creativity. Compositions special for the unique moments of your life.
The Sampson Flowers store was established in 1994 . After 23 years of operation and absolute trust on the part of our customers, and knowing the requirements of the time we wanted to renew our communication with you. So www.sampson-flowers.gr dynamically close to you. This way you will be able to get close to your loved ones wherever you are and send them your love.
Sampson flowers can serve you in the most special moments of your life. Personal, happy and professional . We will be happy to offer you our best services, combined with fresh and always well-kept compositions . As well as the very fast delivery of the products selected by you . Thank you for your trust.
13. Moustakas

(Source)
Moustakas Flower Shop is known for its 35 years of operation in the city of Thessaloniki. They offer a wide range of decorations for weddings and events where flowers are necessary.
In designing flowers, they have a high level of care and expertise. Thus, they only serve a limited number of customers each year.
14. Fiorentinos Flowers

(Source)
At Fiorentinos Flowers, their job to make flowers as memorable it can be. With their talent, they want to express the message you want to give in the customizes arrangements they create for you. They will make sure that they surpass your expectations of them.
15. Flower House Angela

(Source)
Flower House Angela has a large variation of flowers for you to choose from. They make sure every flower you buy is worth it's price. They give you high-quality service to ensure that you come back to their store.
16. Santorini Florist

(Source)
Santorini florist is a flower shop in Santorini specializing in wedding flowers. They provide everything for an unforgettable wedding and offer special prices for bouquets, boutonnieres, corsages, hairpieces, and personal flowers. They also have 24/7 delivery service of flowers anywhere in Santorini.
17. Fiorissimo.gr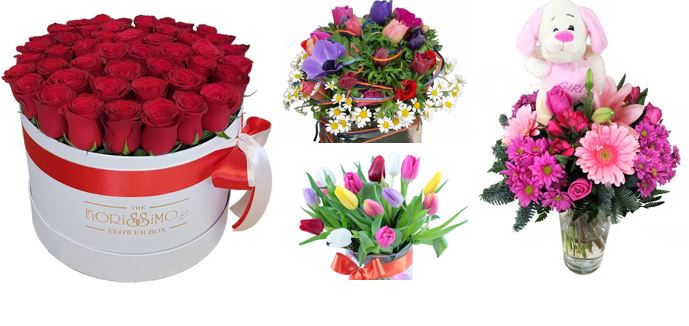 (Source)
Fiorissimo.gr was founded in 1989 at Chalandri, Athens. Today, they sell flowers of different varieties and arrangements, along with plants, drinks, diaper cakes, balloons, and even pinatas and giant teddies. For a long-lasting gift, they have dreamy preserved flowers placed in beautiful containers.
So that was our list of the best options for flower delivery in Greece. How did we do? As always let us know in the comment section below.
Are you looking to send flowers outside of Greece? Check out this list for flower delivery options in Athens and this for options in Paris.