The 10 Best Options for Gift Baskets in Australia
Australia is known for its wonderful sceneries that are ideal for family bonding, romantic dates, or even simply strolling around alone. But, not only through these magnificent views does Australia stand out.
It is also home to a lot of creative and highly skilled people who are able to create and design beautiful gift baskets that include high quality goods. Let's get started with these 6 shops.
1.      GIFT BASKETS

Gift Basket is one of the largest online gift shops serving the entire country of Australia. It houses thousands of different gift hampers perfect for any occasions and celebrations, may it be a simple gathering or a huge event.
They also directly send gift baskets to some selected hospitals and maternities across Australia.
| | |
| --- | --- |
| SPECIALTY | Gift baskets for all occasions |
| SELECTION SIZE | Large |
| STARTING PRICE | Starts at $99 |
| DELIVERY FEE | Calculated at checkout |
| WEBSITE | https://www.giftbasket.com.au |
| SOCIAL MEDIA | IG:@ribbonsandbloomsaus |
| CONTACT DETAILS | 1300 794 262 |
WHAT PEOPLE LIKE
NEXT DAY DELIVERY. Quite in a rush? Don't worry because you can always avail the next day services of Gift Basket as they offer this perk to 90% of the total population of Australia including Sydney, Brisbane, Melbourne, Canberra, Perth, Adelaide, Gold Coast, Sunshine Coast, Hobart, Mackay, Townsville, Darwin, Perth, Newcastle, Geelong, Wollongong, Ballarat, and Toowoomba.
PRODUCTS
Birthday Gifts – $99 to $300
Thank You Gifts – $99 to $300
DELIVERY AND PAYMENT
Visa, MasterCard, PayPal, Stripe
2.      CREATIVE HAMPERS

Creative Hampers is a local shop in Australia that offer high quality and unique gift baskets suitable for any occasion. When it comes to packaging their products, they make sure to always use best quality of materials and carefully handle all their deliveries.
| | |
| --- | --- |
| SPECIALTY | Luxury hampers |
| SELECTION SIZE | Large |
| STARTING PRICE | Starts at $55 |
| DELIVERY FEE | Starts at $17.95 |
| WEBSITE | https://www.creativehampers.com.au |
| SOCIAL MEDIA |   |
| CONTACT DETAILS | 1300 30 54 30 |
WHAT PEOPLE LIKE
LARGE SELECTION. Creative Hampers has a lot of gift baskets to offer you including holiday exclusive ones. So, for the coming holiday season, you can trust the shop to give you the best products that you deserve.
CORPORATE GIFTS. For companies who are yet to prepare their gifts and giveaways to their employees and clients, search no more because Creative Hampers offer corporate hamper brochure.
PRODUCTS
Gourmet Baskets – $55 to $300
Get Well Baskets – $59 to $300
DELIVERY AND PAYMENT
Visa, MasterCard, PayPal, AMEX
3.      GIFTS AUSTRALIA

Gifts Australia is your one-stop shop for premium gift hampers as they have a collection of various kinds that they guarantee to be equally in the best qualities and stunning designs.
Shopping with them is also made easy because they organized their products according to purpose and type of products.
WHAT PEOPLE LIKE
PREMIUM GIFTS. If there is one thing that the shop can assure you, it the quality of their products that they always maintain to be exceptional and perfect as gifts.
PRODUCTS
Baby Hampers – $89 to $300
Christmas Hampers – $39 to $300
DELIVERY AND PAYMENT
Visa, MasterCard, Apple Pay, Google Pay, PayPal, Zip, Afterpay
4.      HAMPERS WITH BITE

Hampers With Bite wants to make sure that they are always with you every step of the way. Whether it is a simple event or a grand celebration, the shop is always prepared with the perfect gift baskets most appropriate for each occasion.
Shopping is also made easy as they organized their products categorically.
WHAT PEOPLE LIKE
CORPORATE GIFT SELECTION. Make this year's corporate gift giving even more sophisticated by partnering up with Hampers With Bite. The shop accepts corporate accounts and you are guaranteed to be presented with premium quality products.
PRODUCTS
Anniversary Gifts – $45 to $150
Birthday Gifts – $45 to $150
DELIVERY AND PAYMENT
Visa, MasterCard, PayPal, AMEX
5.      THE HAMPER EMPORIUM

Loves spending wine nights with your friends and families? Why not check on the collections of The Hamper Emporium? They have tons of choices of hampers for you— from premium wine and beer to mouth-watering chocolates. These hampers are really perfect to cap off the night.
WHAT PEOPLE LIKE
AFFORDABLE HAMPERS. Who would have thought that a premium class hamper comes in a very affordable price? At The Hamper Emporium, it is always possible to get best quality hampers at truly fair prices.
FREE DELIVERY. Get your favorite products now arranged in hampers and gourmet baskets and avail the shop's free delivery services in across Australia.
PRODUCTS
Chocolate Gifts – $79 to $500
Pamper Gifts – $119 to $400
DELIVERY AND PAYMENT
Visa, MasterCard, PayPal, American Express
6.      A LITTLE LUXURY

A Little Luxury aims to help you create the perfect and most delightful gift hampers to send your loved ones. Their collection of gift baskets does not only contain luxury products but they also make sure that they are packaged so beautifully so they will be ready to be sent as gifts.
The shop has been providing these wonderful products since 2006 so you are guaranteed that your products are well taken care of by experts.
WHAT PEOPLE LIKE
RELIABLE DELIVERY. The shop is applauded for their excellent delivery services. They even offer same day and next day delivery for those who need quite rush orders.
PRODUCTS
Gourmet Gifts – $49 to $300
Wine Gifts – $39 to $500
DELIVERY AND PAYMENT
Contact shop for details.
7.      BINDLE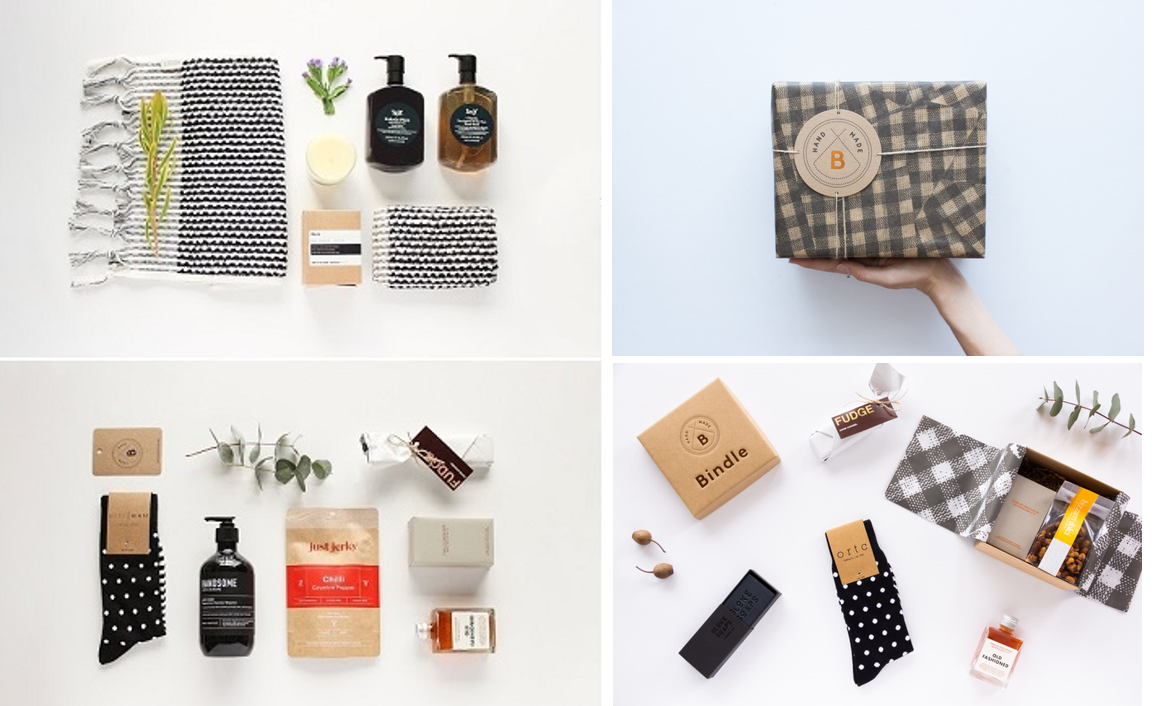 Bindle is a boutique business that delivers stylish packages filled with products that are made by local artisans. They a boutique business that delivers stylish packages filled with products that are made by local artisans.
SPECIALTY
Personalized Gifts
SELECTION SIZE
Small – Medium
STARTING PRICE
$85 – $400
DELIVERY FEE
Enquire for Prices
WEBSITE
https://bindle.com.au/
SOCIAL MEDIA
IG: @bindlefare
CONTACT DETAILS
(03) 8790-7707 |

[email protected]
WHAT PEOPLE LIKE
QUALITY GUARANTEED. Their products are made with high quality materials and they guarantee neat and organized packaging.
SUPPORT LOCAL. Everything is locally sourced and designed, from the boxes, products, right down to the hand that wraps them.
PRODUCTS
A Little Lift – $110
Bundle of Joy – $200
Gesture With Gin – $95
DELIVERY AND PAYMENT
Cash, Credit/Debit Card
8.      BYRON BAY GIFTS

Byron Bay Gifts specializes in unique gift baskets that are composed of mixed products, mostly edible ones, like chocolates, wines, nuts, cookies, etc.
Their team never fails to go the extra mile when creating their products and they also employ strict quality control so you are assured that everything you see from their collection are all in the finest and best qualities.
WHAT PEOPLE LIKE
100% CUSTOMER SATISFACTION. The shop's utmost priority alongside with bringing you the premium quality products is to ensure that all of their clients are satisfied and happy with the products and services that they are getting.
TEAM OF EXPERT. Behind the shop's success is their team of hardworking and professional staff that always secures the quality of their products and services. They see to it that all of your concerns and requests are addressed properly.
PRODUCTS
Baby Gift Hampers – $79 to $300
Pamper Hampers – $59 to $300
DELIVERY AND PAYMENT
Visa, MasterCard, PayPal, AMEX, Apple Pay
9.      TERRITORY GIFT BASKETS

Territory Gift Baskets is a family run and locally owned business based in Darwin that offers a wide assortment of gift baskets that are perfect for any occasion.
They cater to custom orders and offer same day delivery.
WHAT PEOPLE LIKE
GIFTS FOR ALL OCCASIONS. They have a great range of gift baskets that fit any events or celebration.
FREE DELIVERY. They offer free delivery in Darwin and Palmerston for orders above $150 and for orders placed before 11am.
PRODUCTS
Chandon & Chocolates Gift Box – $110.00
Deluxe Baileys & Chocolates Gift – From $169.00
Fruit Basket (gluten free) – From $89.00
DELIVERY AND PAYMENT
Orders placed before 11am will be delivered on the same day except for Fruit Boxes (next day delivery). Payment options include VISA, MasterCard and American Express.
10.      YELLOW DUCK BABY GIFTS

Yellow Duck Baby Gifts was established in 2007 and is continuously providing affordable, unique, and exeptional products online. They cater to the baby giftware market, so if you are going to a baby shower, their products can be the perfect gift.
What struck us the most about them is the fact that they only use the best toys, towels, blankets and clothing in their beautifully presented gift boxes and hampers. Your baby gift can also be personalised with any detail, whether it be a baby name, date of birth, or even the Christening date.
Just from looking at their products, you will be amazed how aesththically pleasing it is! They make sure that all of the items in their hampers compliment each other.
Even if you do not know the gender of the baby, they still got you covered. With their neutral baby gifts you will have the chance to choose products that are fit for any gender.
WHAT PEOPLE LIKE
NEUTRAL BABY GIFTS. Customers will not have a hard time between choosing hampers for either boys or girls. Their neutral baby gifts work with any gender.
QUICK DELIVERY. As much as possible, they try their best to deliver the orders on time.
PRODUCTS
Hampers for boys
Hampers for girls
Neutral baby gifts
DELIVERY AND PAYMENT
Orders before 11.00 am can be delivered within the same day Monday – Friday Melbourne Metro only. For payment methods, contact them for more information.