Getting wed on a winter season is surely something! Its flowers mostly come in cool and neutral colors like white, blue, black, brown, taupe, grey, or a mix of them.
However, they can also be mixed with attractive and vibrant flowers, like roses and periwinkles, which bloom all year long. Anyway, here are the best wedding flowers for winter you can get!
1) Anemones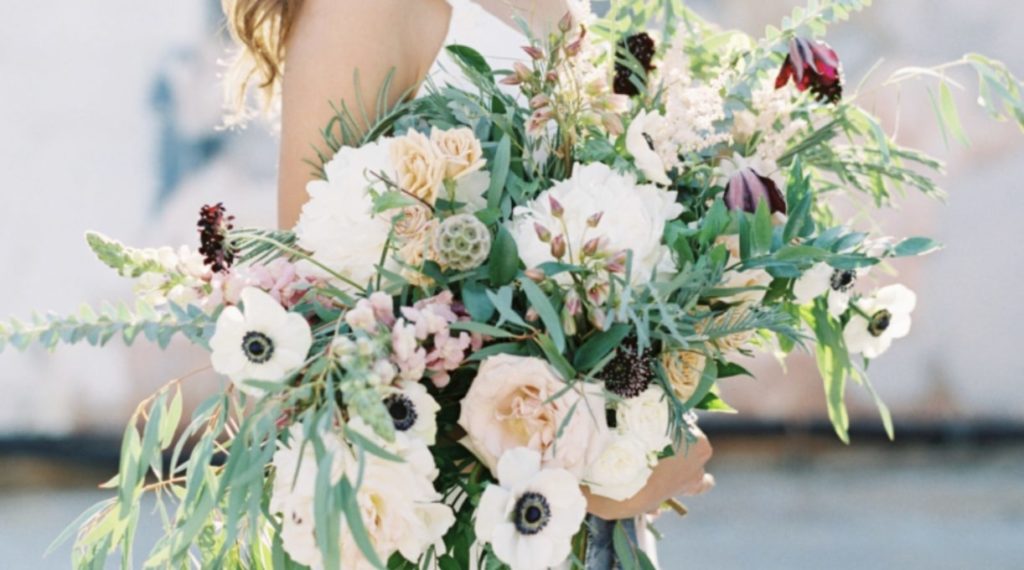 White anemones shine as wedding flowers for winter with their elegant white petals and charming black centers. Having a delicate form, they represent sincerity and trust between a couple.
Their flowering time is during spring and autumn. You can pair them with beige roses and greenery to create a stunning ceremony bouquet or arrangement, or a lovely and grand table centerpiece.
2) Ranunculus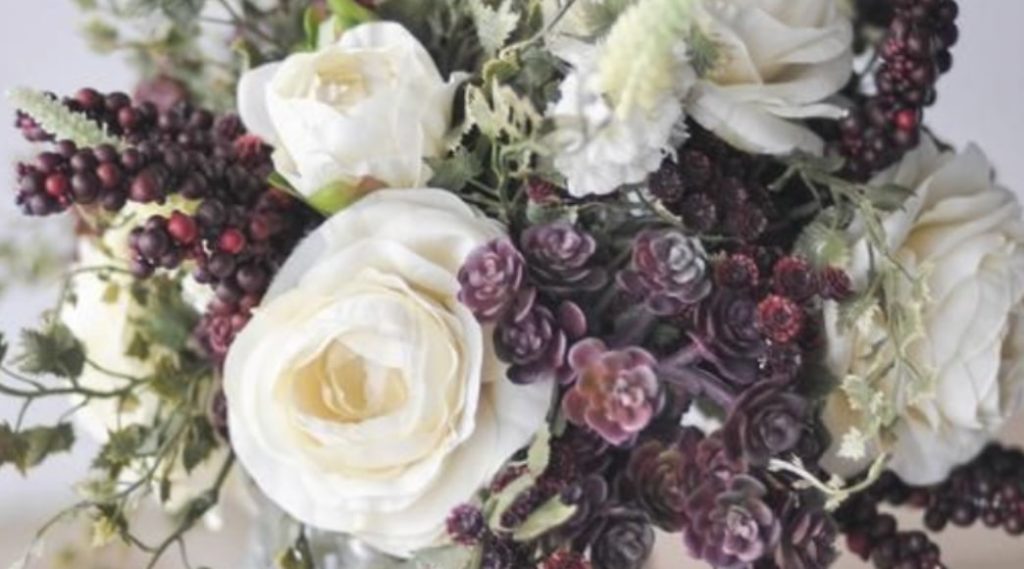 Large, dazzling, and creamy, a ranunculus needs very little effort to be the center of attraction. People love them for it and use them for boutonnières, hair ornaments, bridal bouquets, and vase arrangements.
They look like the younger sibling of peonies and make a great substitute for them. In the picture, these mellow and beautiful ranunculuses are matched with lovely red and dark violet berries and fillers.
These flowers are in-season during winter, which make them easy to be sourced by florists. Also, the meaning associated with them is charm and gentleness.
3) Gerbera Daisies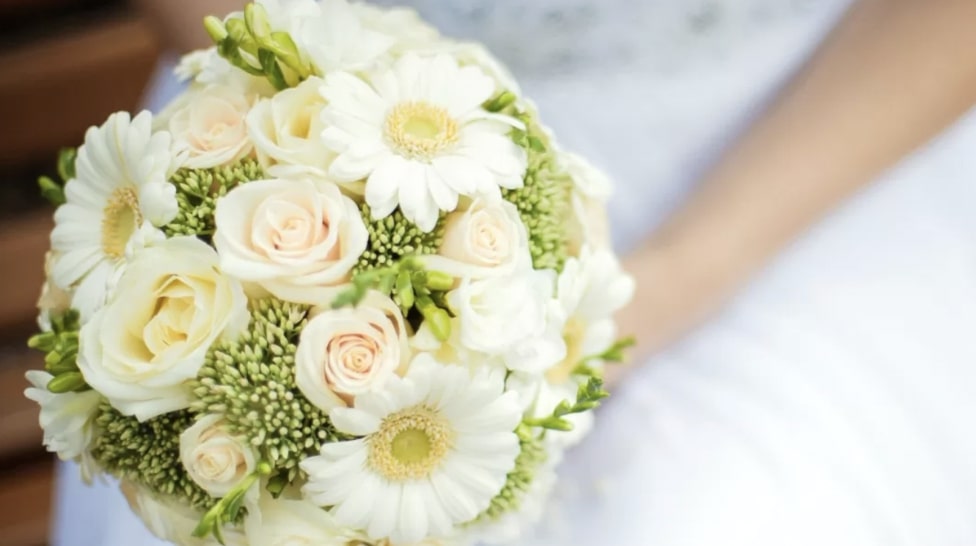 Surprisingly, wedding flowers can also include white gerbera daisies. Although these are known for their bright and cheerful nature, they can be slightly muted in such a way to fit your winter theme.
Elegant winter bouquets with them are certainly a sight to see. And, you might also want to let your florist add a few pinecones to your posy or bouquet for that enhanced winter look!
By the way, daisies bloom for a longer period compared to other flower types, including spring, fall, and summer. By winter, they are ready to show off their incredible beauty and sunny vibes.
4) Tulips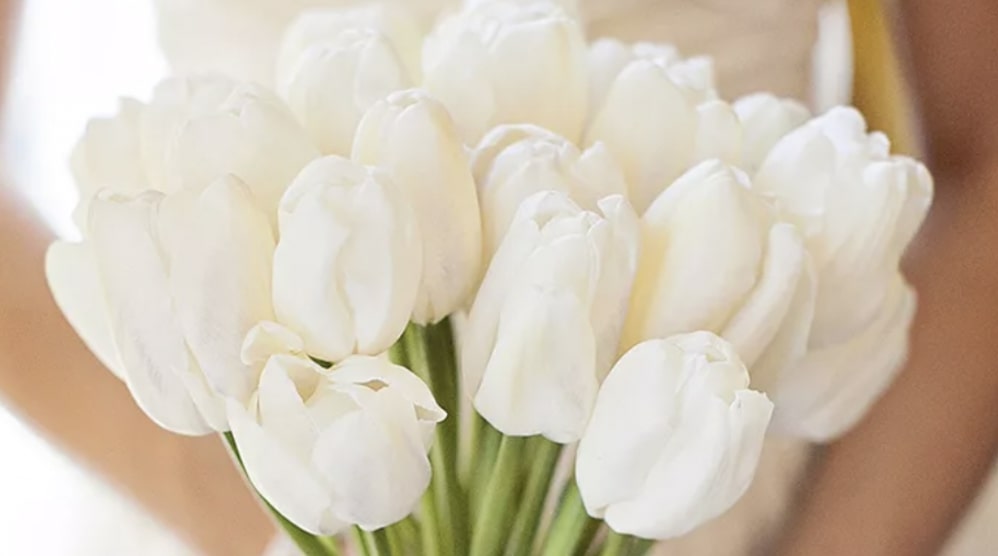 We know of the colorful tulips as spring flowers, but did you know that they can spring from the ground from as early as late winter?
If ever the harsh winter causes them to grow prematurely, they can tolerate them and blossom beautifully in the next season.
As such, white tulips are well-suited to the winter. They have this simplicity and timeless appeal, so they can be transformed into a modern wedding table centerpiece as well.
5) Poinsettias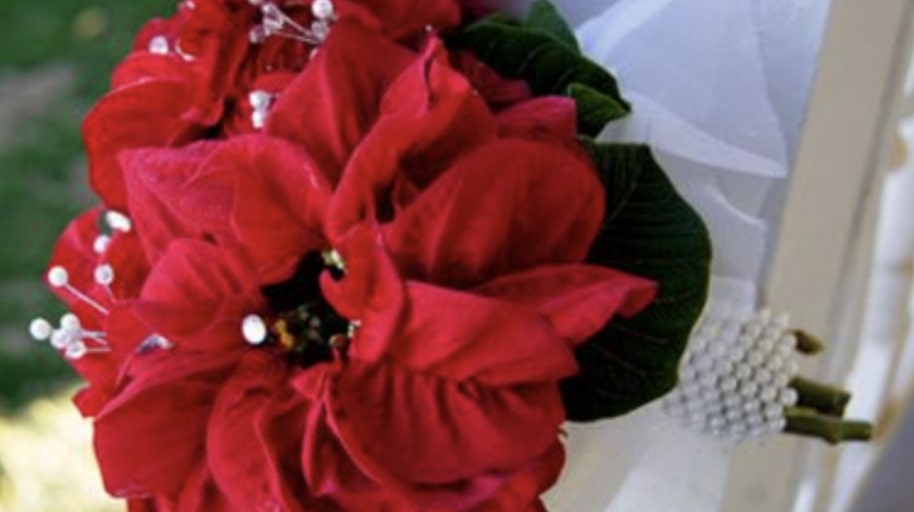 Christmas is associated with tasty gingerbread men, festive stockings—and poinsettias. The deep-red hue and stylish petals of poinsettias always enliven flower arrangements they're in.
It's makes a perfect pairing with any greenery and ornamental pearls. If you're getting married in Christmas, a poinsettia bouquet will most likely impress your family, friends, and guests.
In general, these vivid flowers symbolize good intentions and community spirit. Religiously, they say the petals are shaped like the Star of Bethlehem under which Jesus was born and the deep red his blood when he died for our sins.
More Resources on Winter Wedding Flowers