The 8 Best Options for Chocolate Delivery in Brisbane
Who can't say no to chocolates? Even the tiniest bite feels like heaven especially if they are made from the finest and freshest products. Now, what if we tell you that you can have these luscious chocolates directly delivered at your place?
Did we get you all hyped up? Well, you should be. Now, take a look at these 6 shops in Brisbane that can send you your favorite chocolates in a snap.
1.      EDIBLE BLOOMS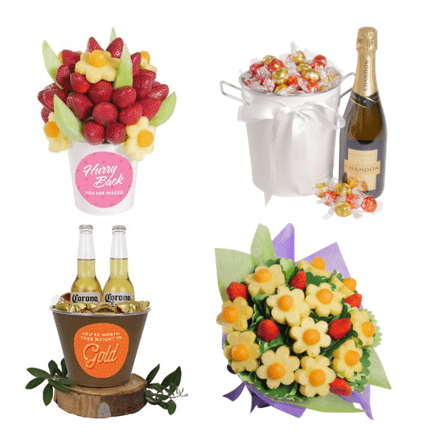 Send someone a special gift which is a combination of two wonderful items- chocolates and flowers. The shop specializes in edible blooms made out of sweet chocolates which are perfect gift especially for birthdays. The shop also offers free delivery services for as long as your order reaches a total amount of $120 and above.
WHAT PEOPLE LIKE
CUSTOM MADE. The shop offers to customize your gift products so your recipient will feel extra special and more personal. This is also your chance to make your gift exactly how you think the recipient would like it.
FREE DELIVERY. The shop offers free delivery to their clients whose orders have a total amount of $120 and above.
PRODUCTS
Fruit Chocolate Hampers – $45 to $300
Gift Chocolate Hampers – $55 to $300
DELIVERY AND PAYMENT
Visa, PayPal, AMEX
2.      CHOCOGRAM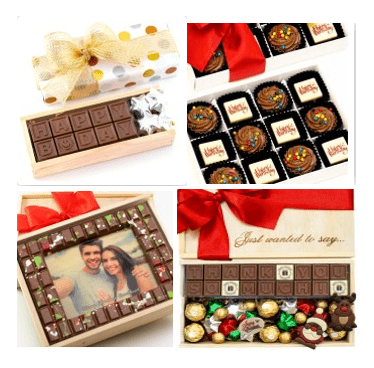 Chocogram specializes in handmade, personalized, premium chocolates that are perfect for gifts and souvenirs. The goal of Chocogram is to provide joy and happiness to whoever receives their product and they aim to paint chocolate smileys to them that is why they always go the extra mile when creating these products.
WHAT PEOPLE LIKE
CHOCOLATES FOR ALL OCCASIONS. Whether you are sending chocolate gifts for a birthday celebration, mothers' day, Valentine's Day, Christmas, etc., Chocogram can always provide you with the best kind they have in their collection.
GREAT CUSTOMER SERVICE. Should you have any questions and concerns regarding your order? Or do you need a professional help in choosing the right chocolate to send? You can always count on to reliable customer service that Chocogram has.
PRODUCTS
Birthday Gifts – $31 to $200
Christmas Gifts – $11 to $200
DELIVERY AND PAYMENT
Visa, MasterCard, AMEX
3.      SWEET AS GIFTS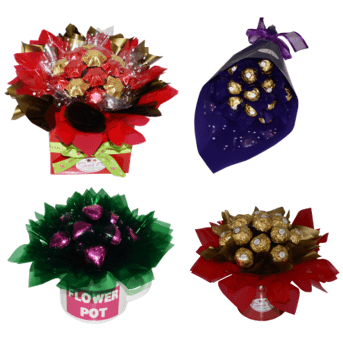 Sweets as Gifts wanted to make every occasion as sweet as their chocolates so they always see to it that they create the perfect product for each celebration. While they offer a variety of items, they specialize more in chocolate bouquets.
These chocolate bouquets do not only taste like heaven but are also arranged to look exactly like the real flower bouquets. These products are also sold at very affordable prices so you get the best value for money.
WHAT PEOPLE LIKE
AFFORDABLE PRODUCTS. Do not be deceived by the look of their chocolate products because as much as they look so expensively beautiful, these are actually offered at reasonable prices.
FOR ALL OCCASIONS. To make chocolate shopping quicker and easier, they have already pre-arranged their products according to the occasion they are most suited to. Checkout their website to see it for yourself.
PRODUCTS
Chocolate Bouquets – $25 to $300
Congratulations Gifts – $25 to $300
DELIVERY AND PAYMENT
Contact the shop for more details.
4.      GIFTS TO A DOOR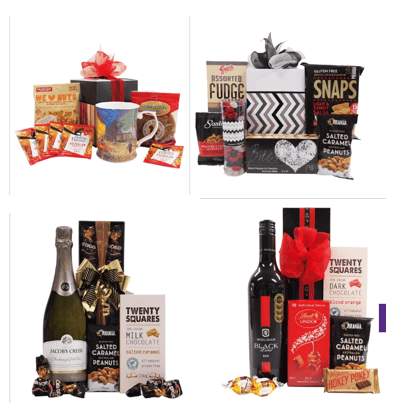 Gifts To A Door has an extensive range of options for gift items and one product that they are most prominent for is their chocolate hampers. These chocolates are undeniably scrumptious and would be perfect to be sent as gifts for all ages.
Each hamper consists of a variety of flavors and form but one thing that they can assure you is that they are all equally best tasting and are in the highest quality as always.
WHAT PEOPLE LIKE
PREMIUM CHOCOLATES. Gifts To A Door does not simply provide a box of chocolates but they make sure to send you the best and only premium quality ones. These chocolate hampers are filled with mixed kinds of chocolates so your recipient will have plenty of options to choose from.
PRODUCTS
Gourmet Gift Baskets – $33 to $200
Wine Gift Basket – $44 to $300
DELIVERY AND PAYMENT
Visa, MasterCard, AMEX
5.      TASTEBUDS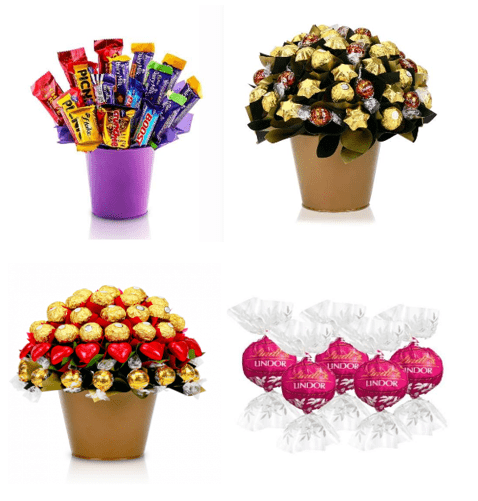 For the Valentine season, what do you think is the best gift that you can give to your friends? Something that will make them feel how much you adore them? Do you want to explore the world of chocolates? If you do, then let us introduce you to Tastebuds.
They have a huge collection of deluxe chocolates. Some of them are even arranged in bouquets so you don't have to bother wrapping them. Check out the products that they sell by visiting their website.
WHAT PEOPLE LIKE
EXPERT TEAM. The team that creates the chocolate products consist of professional chocolatiers that always go the extra mile in providing excellent products and delivery services.
RELIABLE DELIVERY. Not only does the shop gives high attention to the quality of their products but they also see to it that they can deliver your orders on time and in the best quality.
PRODUCTS
Chocolate Gifts – $8.95 to $300
Ferrero Bouquets – $85 to $300
DELIVERY AND PAYMENT
Visa, MasterCard, AMEX, PayPal
6.      BRIZZIE BASKETS & BLOOMS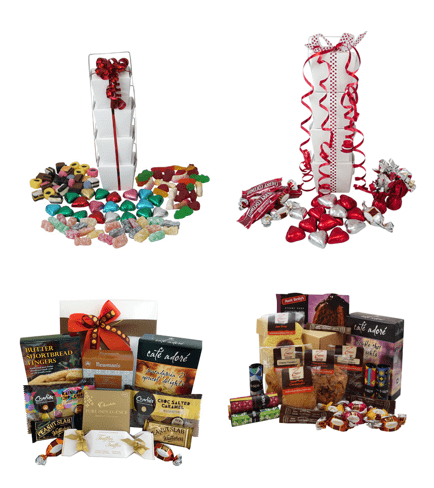 Brizzie Baskets and Blooms is a family business that offers a reliable and personal service, an affordable product and the convenience of gift shopping online. They create unique gift hampers and gift baskets for all occasions, using high quality products, with an emphasis on Australian produce.
One of the prides of the company is their chocolate gift baskets filled with best tasting chocolates that will definitely be appreciated by all ages. In fact, they stock Max Brenner, Lindt, Belgian, Cocoa Farm, Patons and Ernest Hillier chocolates and present them in beautiful hampers.
WHAT PEOPLE LIKE
CORPORATE GIFTS. Make your clients and business partners happier by sending them chocolate hampers as your corporate gift especially made by the talented team of Brizzie Baskets and Blooms.
GIFTS FOR ALL OCCASIONS. The shop offers a lot of chocolate products but on the side of that they also sell other gift options that will be appropriate for any kind of occasions.
PRODUCTS
Chocolate Gifts 0 $33 to $100
DELIVERY AND PAYMENT
AMEX, MasterCard, Visa, PayPal, Direct Deposit, AfterPay
7.      DUCHESS OF SWEET

Duchess of Sweet is a company based in Brisbane established in 2018. Their goal in starting this business was to impress everyone and bring forth artisan products like no other.
They take pride in having to cater a vast range of handmade confectionery and delectable treats for all tastes.
WHAT PEOPLE LIKE
HIGH QUALITY PRODUCTS. They make sure to utilize ingredients of the highest quality in crafting their products,
WELL CRAFTED PRODUCTS. They are proud to serve goodies that are pleasing to the eye and are totally instagrammable.
PRODUCTS
Macadamia Nut Brittle – $8
Pecan Nut Brittle – $8
Raspberry Marshmallow Squares – $6
DELIVERY AND PAYMENT
Orders are shipped within three to five business days (Monday to Thursday) from the date of receipt. Payments can be done through Paypal.
8.      31 DEGREES CUSTOM CHOCOLATES
31 Degrees Custom Chocolates is a company whose goal is to cater for every palette and dietary requirement. They always strive to utilize locally sourced ingredients to be able to support local producers and artisans like them.
Most of their products are made with Valrhona, Cacao Barry, Weiss and and Republica del Cacao.
| | |
| --- | --- |
| SPECIALTY | Chocolate |
| SELECTION SIZE | Large |
| STARTING PRICE | Starts at $5 AUD |
| DELIVERY FEE | Contact shop for more details |
| WEBSITE | https://www.31degrees.com.au/ |
| SOCIAL MEDIA | N/A |
| CONTACT DETAILS | 07 3160 8834 |
WHAT PEOPLE LIKE
HIGH QUALITY PRODUCTS. They make sure to use only the finest chocolates there are in crafting their products.
GREAT RANGE. To be able to cater for most dietary requirements, they also offer a wide selection of gluten free chocolates, dairy free alternatives and nut free options.
PRODUCTS
Chewy Salted Caramels – $5 AUD
Honeycomb – $5 AUD
Scorched Almonds – $10 AUD
DELIVERY AND PAYMENT
Orders placed before midday Monday-Friday will be dispatched on the same day. Contact shop for payment details.