The 6 Best Options for Chocolate Delivery in Melbourne
Except for those who are highly allergic, who would not want to have a bite of delicious and melts-in-your-mouth chocolates, right? Melbourne is known for its good snacks including biscuits and chocolates that is why many chocolate shops has been sprouting all around the area, providing efficient chocolate delivery services.
Get to know more of these chocolate shops from our list below.
NOTE: Because of the COVID 19 outbreak, some stores have limited their services in which they might only accept online and phone orders. Where applicable, we've indicated these policy changes for the shops on our list.
1.THE CHOCOLATE BOX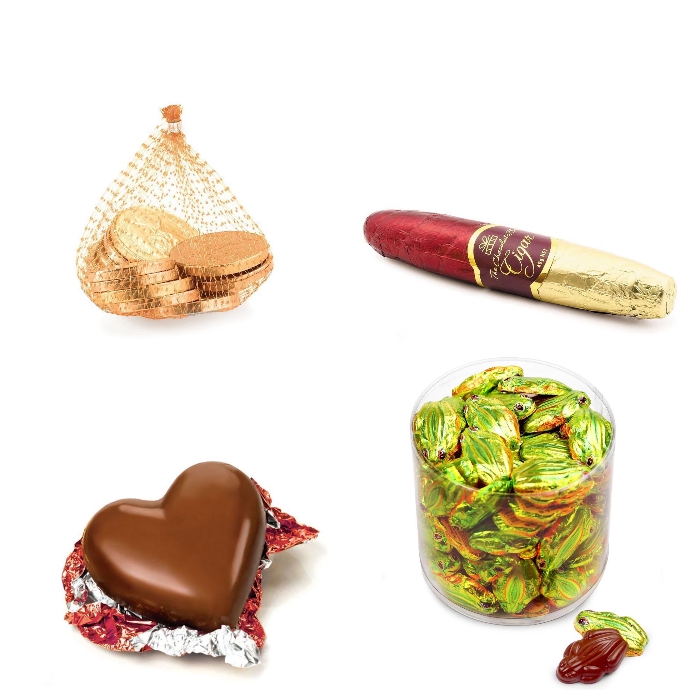 The Chocolate Box is a family-owned business that has been serving the area of Melbourne since 1958. The shop was founded by Rose and Richard Adler who bought a chocolate shop named Smile Away Chocolates in Camberwell's famous Burke Road shopping strip. The shop did not only kept the good reputation of the chocolate shop, but they have also improved it by importing chocolates which they then introduced to the people in Melbourne.
WHAT PEOPLE LIKE
ORIGINAL CREATIONS. The shop takes pride in their precious chocolate collection as they create very unique and original flavors and types of sweet treats. The shop can offer you a lot of options for chocolates with added ingredients such as nuts, fruits, and jams.
CORPORATE GIFT. The shop does not only sell their chocolate products for delivery, but they can also offer these delicious items if you are looking for corporate gifts.
PRODUCTS
Bulk Chocolates – $3 to $150
Ruby Chocolates – $4 to $10
DELIVERY AND PAYMENT
Visa, Mastercard, PayPal, AMEX
NOTE: They still take online and phone orders, however, their standard delivery and express post shipping with Australia Post may experience delays of a week or more. They'll also attempt to make alternate delivery arrangements through other providers where possible so rest assured that they're doing everything they can to minimise delays. 
2.CHOCABLOCK CHOCOLATES

Chocablock Chocolates specializes in creating personalized chocolates and other gift items that will definitely please whoever receives it. The shop has a huge collection of gift items and guaranteed that everything are of the highest quality. The shop has also made shopping with them so easy by categorizing their products according to occasions.
WHAT PEOPLE LIKE
PERSONALIZED ITEMS. The shop wants to make your orders not only a mere purchase but also a wonderful gift that is why they have made their effort to create customized chocolates for added element.
PRODUCTS
Halloween Chocolate – $1.24 to $4
Easter Chocolate
School Chocolate – $1 to $15
DELIVERY AND PAYMENT
AMEX, Visa, Mastercard, PayPal
3.THE COMPLETE BASKETCASE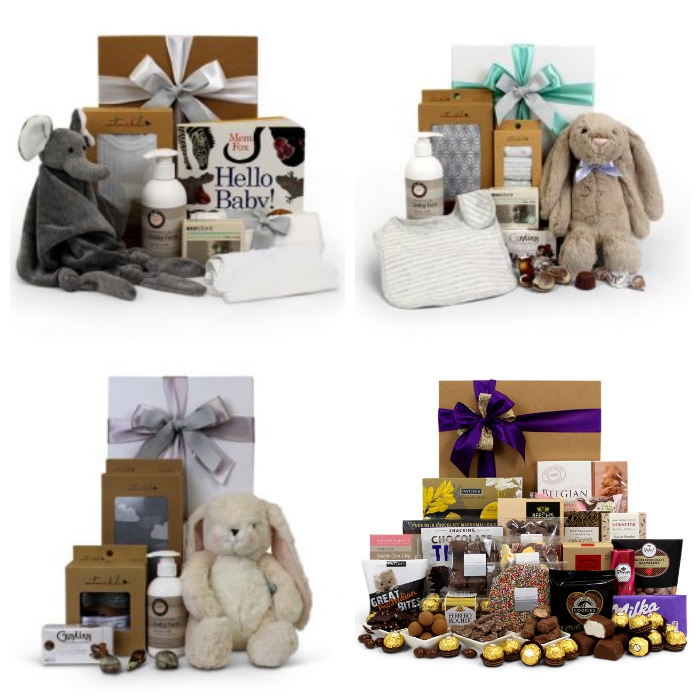 The complete Basket case has been in the business for almost 20 years now and never did they disappoint their clients with their products and services. It is not named The Complete Basket case if it does not offer a complete package of premium items, after all. The shop is committed to making your shopping experience with them the best one that is why they always go the extra mile in providing the best products and services for you.
WHAT PEOPLE LIKE
FREE SHIPPING. You got one thing that you can cross off your list because of the shop's wonderful offer of delivering your orders without any extra charges. With their free delivery offer, you can enjoy chocolate shopping with them until supplies last.
VARIETY OF OPTIONS. The shop does not only offer scrumptious chocolates, they also sell wonderful gift items that will perfectly complement with your choice of chocolate.
PRODUCTS
Baby Chocolate Bouquet – $99 to $150
DELIVERY AND PAYMENT
Contact shop for details.
4.HAIGH'S CHOCOLATES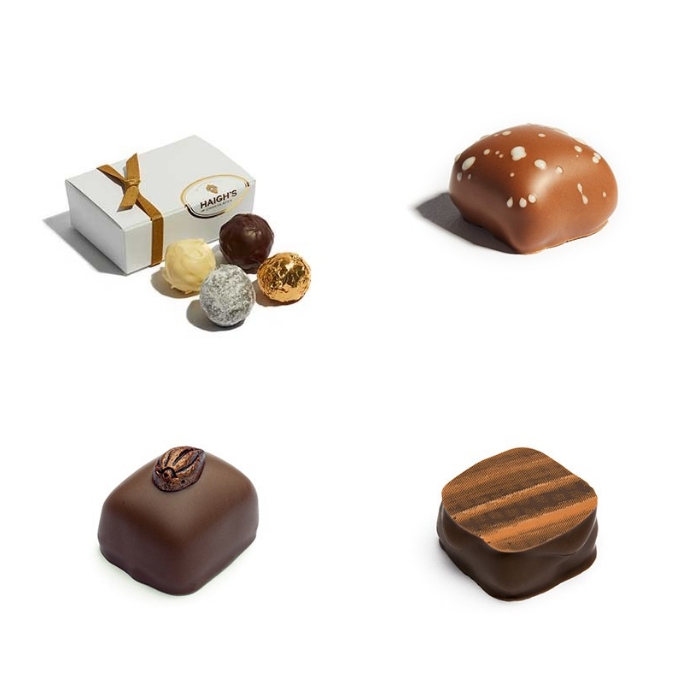 Haigh's Chocolates is Australia's oldest family-owned chocolate shop having been established in 1915. The shop is known for making the finest chocolates from premium cocoa beans and on top of that, they also have a reliable delivery service that you can always rely on to. Currently, the shop has 18 retail stores located across Adelaide, Melbourne, Sydney, Canberra and online.
WHAT PEOPLE LIKE
PREMIUM CHOCOLATES. The shop has a huge collection of premium chocolates that you can always send as gifts or if you are just randomly craving something deliciously sweet.
PRODUCTS
Boxed Chocolates – $18 to $80
Loose Chocolates – $14 to $20
DELIVERY AND PAYMENT
Visa, Mastercard
5.EDIBLE BLOOMS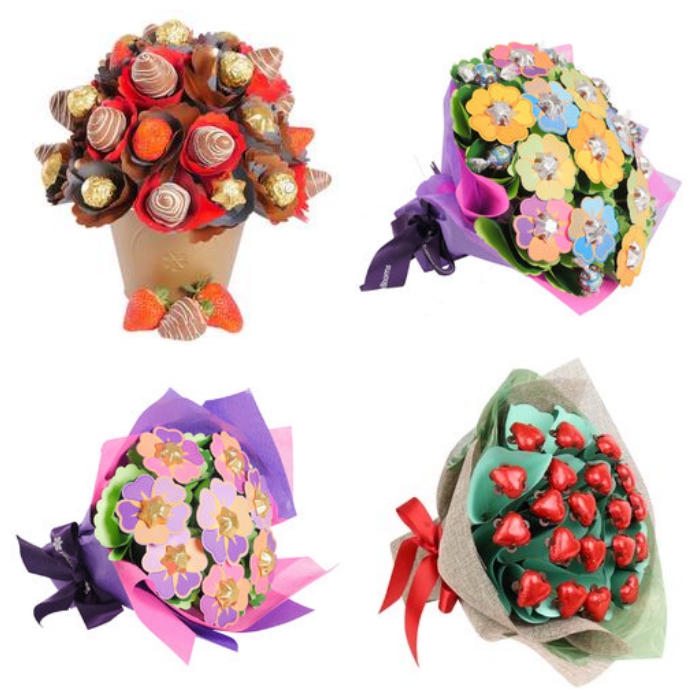 The shop was named such because they specialize in creating chocolates that are molded into flowers which can be both amusing to the eye and the tongue. Imagine, having two of the most romantic gifts in one product? You save some pennies and you even get to send someone a truly wonderful gift that is guaranteed to please anyone of any age.
| | |
| --- | --- |
| SPECIALTY | Chocolate flowers |
| SELECTION SIZE | Large |
| STARTING PRICE | Starts at $59 |
| DELIVERY FEE | Calculated at checkout |
| WEBSITE | http://www.edibleblooms.com.au/ |
| SOCIAL MEDIA | |
| CONTACT DETAILS | 1300 768 996 |
WHAT PEOPLE LIKE
SAME DAY DELIVERY. The shop offers to deliver your orders even on the same day that you purchase them. This is just a part of their wonderful service. They also aim to provide the best and most accurate delivery service in the entire area of Melbourne.
PRODUCTS
Chocolate Bouquet – $59 to $150
DELIVERY AND PAYMENT
Visa, PayPal, AMEX, Norton
6.CACAO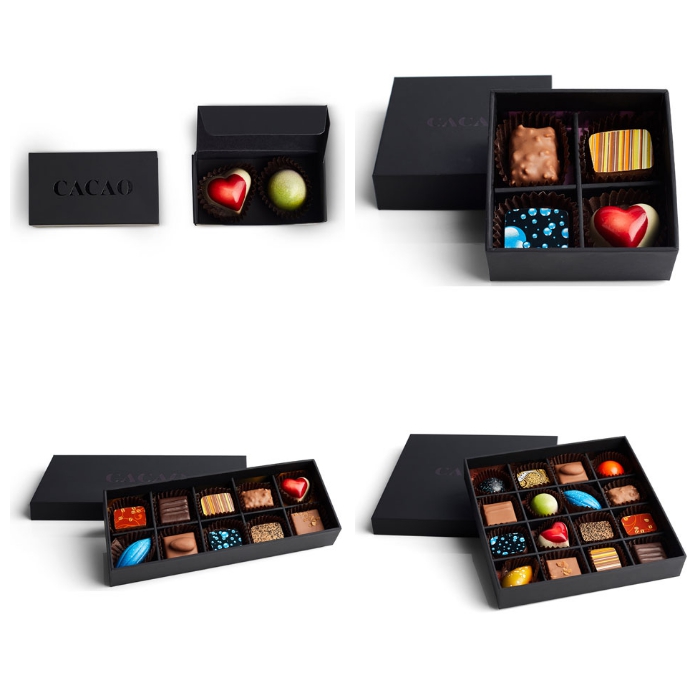 Cacao was established because of the team's desire to create premium quality products out of fresh cocoa beans. With their skills and burning passion for chocolate making, the shop was able to produce a wonderful collection of chocolate flavored desserts and treats.
WHAT PEOPLE LIKE
100% CUSTOMER SERVICE. The shop always prioritizes the satisfaction and happiness of their customers and with that, they make sure that they get the best that they deserve. You can also experience this kind of service if you choose to purchase chocolates from their shop.
DELICIOUS PRODUCTS. The shop guarantees that everything you see and taste from their shop are always in the best quality and they are equally tasty.
PRODUCTS
Boxed Chocolates – $13 to $47
DELIVERY AND PAYMENT
Visa, Mastercard