The 14 Best Options for Flower Delivery in New South Wales
Don't wait for a special occasion just to send someone flowers. Any day could be made special and romantic if you choose it to be.
Especially if you accompany it with an elegantly arranged flowers created by these undoubtedly amazing flower shops in New South Wales.
Check out this list below.
1.      URBAN FLOWER
From classic hand-tied bouquets to extravagant flower arrangements, Urban Flower's creations will always be stunning. Plus the collection of hampers and all sorts of knick-knacks that you can buy on their gift shop is definitely high-standard just like their blooms.
WHAT PEOPLE LIKE
CHIC DESIGNS. Urban Flower's playful arrangement is always balanced. Think boutique but more structured. This is more evident in their Luxury collection (which we highly suggest you check out), especially on the Wildflower Bouquet.
TRENDY GIFT SHOP. Think you want to up your bouquet and add a couple of gifts? No need to worry, their shop is never tacky nor generic. There are tons of high-quality products he or she can enjoy such as calming essential oils and face masks.
Among the products Urban Flower offers, this is definitely one of our faves. We're still struggling on choosing the best gift basket between Ultimate Chocolate Hamper and Indulgence Hamper, so why don't you pick one for us?
PRODUCTS
Birthday Flowers – $94 to $500
Romantic Flowers – $64 to $400
DELIVERY AND PAYMENT
Order by 1 pm for same-day delivery. Payment options include PayPal, MasterCard, AmEx, VISA, ApplePay, Stripe, and Zip.
2.     BAULKHAM HILLS FLORIST

Baulkham Hills Florist delivers the most freshest flowers every day. They believe that flowers can be used to express love sympathy, or even admiration.
WHAT PEOPLE LIKE
If the recipient is not home and the surroundings is safe they will leave the flowers at the door. However, if it is not safe, they will attempt to leave the flowers with a neighbor.
Can deliver a box of chocolate and wine with the flowers
PRODUCTS
Little Flower Box – from $35
Field of Dreams – From $120
Amazing Boquet – from $250
Australiana – From $95
DELIVERY & PAYMENT
Credit/Debit cards, PayPal, Offline Payment
3.      FLOWERS BY JENNIFER

Flowers by Jennifer is ready to make your bouquets especially fit to your message.
They make people smile by creating one of a kind flower arrangements that speaks congratulations, love, apology, condolence, and a lot more.
With Flowers by Jennifer, you'll always be occasion-appropriate because they make the flowers to sincerely convey your feelings and emotions.
| | |
| --- | --- |
| SPECIALTY | Fresh bouquet arrangements |
| SELECTION SIZE | Large |
| STARTING PRICE | Starts at $60 |
| DELIVERY FEE | Calculated at checkout |
| WEBSITE | http://www.flowersbyjennifer.com.au/ |
| SOCIAL MEDIA | |
| CONTACT DETAILS | 02 6882 9399 |
WHAT PEOPLE LIKE
FLOWERS FOR EVERY BUDGET. The line of their products are also very budget friendly to everyone. High end elegant flowers are there; cheap yet beautifully crafted flowers will also capture your eye.
FRESH FLOWERS. If you shop at Flowers by Jennifer, flowers are always guaranteed fresh. They make sure that they maintain the quality of flowers through proper caring until delivery to your doorstep.
PRODUCTS
Bouquets – $60 to $300
Birthday Flowers – $60 to $300
DELIVERY AND PAYMENT
Contact shop for details.
4.      FLOWERS FOR EVERYONE

This flower shop spreads the joy across New South Wales. They make specialized flower arrangements for birthdays, weddings, and other occasions.
They have an extensive collection of flower designs that you could choose from.
Do you want peons? Tulips? Or Roses? Or do you want a bouquet? A flower in a hat box? They have all these on their online platform, so be sure to check it out.
WHAT PEOPLE LIKE
INDIVIDUAL APPROACH. Although they have a ready-to-go flower arrangements, they also make one of a kind design just for you. They specialize in making specialty flowers to fit your needs.
UNMATCHED QUALITY. They believe that their flowers are unmatched compared to their competitors. They make sure that the flowers are always fresh and the arrangements are also made with finesse.
PRODUCTS
Flower Bouquets – $39 to $300
Flower Vases – $94 to $500
DELIVERY AND PAYMENT
PayPal, Visa, MasterCard, AMEX, Stripe, Apple Pay, Zip
5.      NEWCASTLE FLOWERS BY DESIGN

Newcastle Flowers By Design offers chic and trendy flower arrangements. Every girl in your life from your mother to girlfriend would surely love this pretty arrangements.
The color coordination is really great; its arrangements are colorful yet really easy on the eyes. Be sure to check out their collection of wonderfully made flowers which can be a perfect gift for all kinds of occasions.
WHAT PEOPLE LIKE
BEAUTIFUL FLOWERS. They have wonderful and stunning floral arrangement which you can buy from their site. You can choose from their vibrantly colored blooms or those simple yet elegant ones. Whatever you prefer, they will surely have it.
FRIENDLY AND PROFESSIONAL STAFF. This shop also has friendly staff and accommodating personnel. As such, you can be guided with the ordering process or checkout of your orders. Further, you may ask for recommendations or suggestions if you don't know what to choose.
PRODUCTS
Bouquets – $42 to $300
Flower Arrangements – $50 to $300
DELIVERY AND PAYMENT
Visa, MasterCard, PayPal
6.      FRESH FLOWERS & GIFTS

Fresh Flowers and Gifts has been serving the locals with high quality flowers for quite a long time now. They take pride in their stunning floral arrangement and excellent customer service.
The shop provides florals for different occasions but they specialized in providing flower needs during for daily encounters. Likewise, their florist offers occasional and seasonal flowers for those who love to match their flowers with the current holidays.
| | |
| --- | --- |
| SPECIALTY | Fresh blooms for everyday |
| SELECTION SIZE | Large |
| STARTING PRICE | Starts at $20 |
| DELIVERY FEE | Calculated at checkout |
| WEBSITE | https://www.freshflowersandgifts.com.au/ |
| SOCIAL MEDIA | |
| CONTACT DETAILS |  +61 2 8005 2236 |
WHAT PEOPLE LIKE
EASY ONLINE SHOPPING. Customers enjoyed the ease of ordering from their online website. It is for the reason that their page has a basic and simple layout. Purchasing from their online shop is similar to buying from their physical store. So, you can easily choose and get the flowers that you desire for.
GOOD CUSTOMER SERVICE. Their clients also praised how professional and well-mannered their staffs are. From the reviews, they point out that the customer service support, as well as the shop's store, helped and guide them during the process of ordering flowers from their shop. Moreover, feedbacks and suggestions are considered by the shop.
PRODUCTS
Christmas Flowers – $20 to $100
Birthday Flowers – $20 to $100
DELIVERY AND PAYMENT
Visa, MasterCard, AMEX, PayPal
7.      MARIA'S FRESH FLOWERS

Another flower shop that you can rely on for blooms is Maria's Fresh Flowers. They have an excellent collection of floral arrangements.
You can also order their designer's choice if you want something unusual or out of the ordinary. Their florists will surely arrange your orders in a unique and stunning manner.
| | |
| --- | --- |
| SPECIALTY | Just because arrangements |
| SELECTION SIZE | Large |
| STARTING PRICE | Starts at $60 |
| DELIVERY FEE | Calculated at checkout |
| WEBSITE | https://www.padstowfreshflowers.com.au/ |
| SOCIAL MEDIA | |
| CONTACT DETAILS | 02 9773 9079 |
WHAT PEOPLE LIKE
EXCELLENT STAFF. Clients praised the staff of the shop for their professionalism and at the same time, friendliness. Every inquiry is answered with great respect to their consumers. Likewise, if you're looking for recommendations, they will patiently explain their blooms.
STUNNING FLORAL ARRANGEMENT. They have talented and creative florists which reflects the arrangements they offer. You can find beautiful and gorgeous flower arrangement from the shop. Furthermore, their designer's choice is well-liked by the public—refreshing and stunning.
PRODUCTS
Bouquets – $60 to $200
Birthday Flowers – $60 to $200
DELIVERY AND PAYMENT
Contact shop for details.
8.      ILLAWARA FLORIST

Illawarra Florist provides free delivery of flowers for all occasions. The wide range of budget-friendly floral products make buying fresh flowers easy and accessible, especially with their easy to navigate online shop. They can accommodate requests for romantic bouquets, Australian natives and attractive vase arrangements. Aside from their high quality products, Illawarra Florist is also known for their experienced funeral florist and friendly personal service.
SPECIALTY
Flowers for all occasions
SELECTION SIZE
Medium
STARTING PRICE
AU$ 39.95 – AU$ 229
DELIVERY FEE
FREE online delivery south of Wollongong
Order by 1.30pm for same day delivery
WEBSITE
www.illawarraflorist.com.au
SOCIAL MEDIA
IG: @illawarraflorist
CONTACT DETAILS
0424 232 686
WHAT PEOPLE LIKE
LARGE COLLECTION. Whether you want a bouquet of roses for your anniversary dinner or a basket of tulips for a sick friends, Illawarra Florist always got your back with their large selection of flower arrangements.
PRODUCTS
DELIVERY AND PAYMENT
Major credit cards, PayPal
9.      POSY & TWINE FLORIST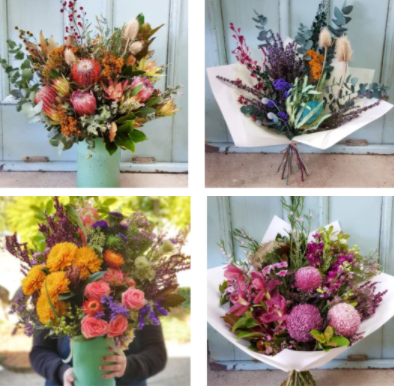 Posy & Twine Florist is a flower shop in Telopea. This award winning shop is renowned for their generous and textural approach, ensuring the recipient receives something truly special.
They use fresh and dried flowers for their unique arrangements. Along with this, they use an eco-friendly wrapping.
WHAT PEOPLE LIKE
SAME DAY DELIVERY. If you order by 11am online, you will be able to receive your flowers the same day.
PRODUCTS
Native Seasonal Flowers $50 – $175
Dried Seasonal Flowers $75 – $175
Bright Seasonal Flowers $50 – $175
Pink Seasonal Flowers $50 – $175
White Seasonal Flowers $50 – $175
Rainbow Dream – Dried Bouquet $75 – $175
DELIVERY AND PAYMENT
All major credit cards
10.     JODIE MCGREGOR FLOWERS

Jodie McGregor Flowers has a team of dedicated floral professionals who handcraft the bouquets and arrangements with great care and passion. They started with a small shop in Annandale in 1999 with little more than a table overflowing with flowers, a drawer to put the money in and a pair of scissors. Since then, the shop has flourished to cater to a wide range of customers with varying budgets and style preferences. Order by 4pm for same day delivery.
SPECIALTY
Seasonal flowers
SELECTION SIZE
Large
STARTING PRICE
$80 – $360
DELIVERY FEE
Contact the store for delivery options
WEBSITE
https://www.jodie.com.au/
SOCIAL MEDIA
IG: @jodiemcgregorflowers
CONTACT DETAILS
(612) 9566 1999 |

[email protected]
WHAT PEOPLE LIKE
QUALITY ENSURED. The shop, which has been active since 1999, provides a wide variety of floral products for all occasions. All the flowers they sell are guaranteed to be fresh and full of life.
BLOOMING FRESH. They flowers direct from a number of growers weekly, refilling their stock on Monday, Wednesday and Friday with flowers bought from wholesalers and growers.
PRODUCTS
Tasteful – $95.95
Dreamy – $99.95
Casablanca (In Vase) – $105.95
DELIVERY AND PAYMENT
Major credit cards
11.     PURE FLOWERS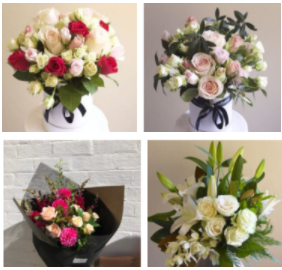 Over the years, Pure Flowers' team has created thousands of bouquets and delivered messages of love, care, and friendship. They surprise and delight people by spreading joy through flowers. This is the reason why the owners, Elen and Ludmila, love what they do.
Their bouquets are made from fresh flowers that can guarantee their customers that they are not wasting their money!
SPECIALTY

Flower delivery

SELECTION SIZE

Large

STARTING PRICE

$35-$149

DELIVERY FEE
Depends on location
WEBSITE
https://www.pureflowers.com.au/
SOCIAL MEDIA
Instagram: @pureflowers_lanecove

CONTACT DETAILS
T: 02 9427 8214

From Overseas: + 61 2 9427 8214
WHAT PEOPLE LIKE
Physical store is open six days a week

Partnership with local businesses
PRODUCTS
All Occasions Flowers
Sympahty Flowers
Corporate Flowers
Wedding Flowers
DELIVERY & PAYMENT
Payment processes are provided upon inquiry. 
12.     FLOWERS OF MOAMA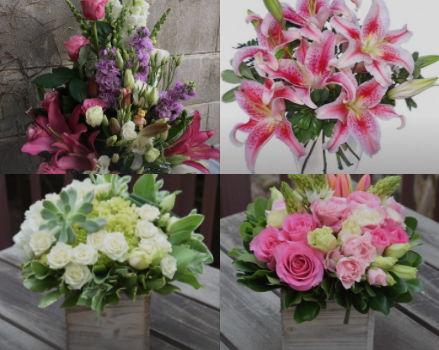 Flowers of Moama is a one-stop shop for everyone who is looking for a flroal gift that will brighten their loved ones' day. Whether you're looking for a striking bouquet or a sweet and sentimental floral piece, you can be sure that their professional can help you.
WHAT PEOPLE LIKE
Online store does not only offer flowers, but bath bombs, balloons, chocolates, and more as well
Same day free local delivery for orders before 10AM
PRODUCTS
Platinum $140.00
Bohemian Dreaming $130.00
Donut Bath Bombs.. Stunningly Fragranced $10.00
Helium Balloons $20.00
DELIVERY & PAYMENT
VISA, Paypal, Stripe, Mastercard, cash on Delivery
13. THE FLOWER CREW

The Flower Crew is here to provide you the perfect gift for your loved ones. They offer a selection of the freshest flowers and can have it arranged to your liking. 
They will deliver your orders right at your doorstep at a very affordable price.
SPECIALTY

Flower arrangements

SELECTION SIZE

Large

STARTING PRICE

Starting price: around $50

DELIVERY FEE
Depends on location
WEBSITE
https://www.theflowercrew.com.au/
SOCIAL MEDIA

IG: @theflowercrew

FB: @theflowercrew

CONTACT DETAILS

1800 568 348
WHAT PEOPLE LIKE
WIDE VARIETY OF PRODUCTS

– They offer flowers and gift options that are perfect for every budget and any occasion.

SAME DAY DELIVERY – They guarantee same day delivery for orders placed before their cut off time.
PRODUCTS
Dozen Roses – $59

Moet Hamper – $198

Pink Boxed Roses – $89
DELIVERY & PAYMENT
Orders placed before 8 am will be delivered on the same day. Payment options include Paypal, VISA, Mastercard and American Express.
14. RUBY OAK FLORISTRY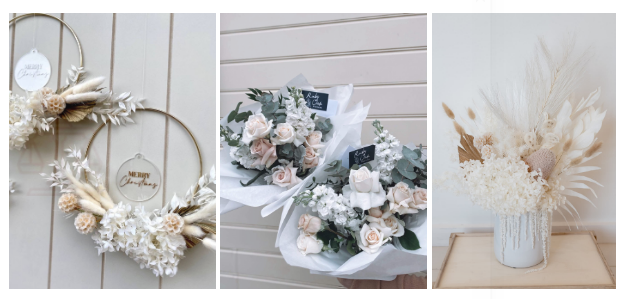 Ruby Oak's profession is lined towards delivering its service for its client's weddings. They are able to offer all-budget inquiries to fit the complement and satisfy the client's style.
The company offers quality fresh & preserved flowers. They spread their passion through sharing the beauty of our natural surroundings by being timeless with their creativity
WHAT PEOPLE LIKE
BEAUTIFUL FLOWERS. Wonderful and stunning floral arrangements to choose from.
FRESH FLOWERS FOR EVERY BUDGET.  Quality and best flowers at best prices.
PRODUCTS
Dried Flowers Christmas Wreath – $65
Florist's Choice Fresh Flowers – $80
Dried Flower Arrangement – Banksia – $165
DELIVERY & PAYMENT
They offer a small delivery fee to Sutherland Shire and Wollongong Areas. They accept visa, mastercard, and american express credit cards.